Brad Barritt On His First England Cap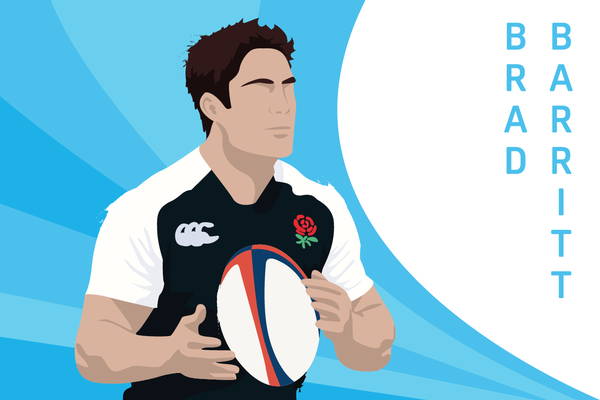 Ahead of the 2019 Guinness Six Nations Championships, we caught up with Flexiseq Ambassador Brad Barritt to discuss his memorable debut in the tournament as England overcame Scotland in 2012.
It's an immensely proud moment to be given the nod by your country. It felt like the culmination of years of hard work and a reward for my consistency at club level. By the time of the Scotland match, I'd been on two senior England tours, played two non-cap internationals and even been part of the 2011 autumn squad only to break my finger the week before. I was so grateful for another opportunity.
I remember Stuart Lancaster, interim coach at the time, was immensely bold with his selection, picking, I think, five debutants against an experienced Scotland side. It was Chris Robshaw's first start as England captain; so the dawn of a new era. It felt pretty special to be part of that. Also, it was great having a few Saracens alongside me. Charlie Hodgson, David Strettle and Mouritz Botha were in the starting lineup, Owen Farrell, like me, was making his debut and Matt Stevens, who I grew up with, came on in the second half. I also knew a few lads from Saxon squads so there was a great sense of familiarity, which comes in handy when you have so little time to prepare.
On the international scene, you come together the week before and get seven or eight preparation days. The learning process is much quicker, the acclimatisation has to take place rapidly. You have to be comfortable feeling uncomfortable.
Physically, I felt confident because I'd been playing high-level rugby for a long time, but I don't think anything prepares you mentally for what you're about to face in an international. The coaching staff pass on little bits of advice in the build-up, urging you to stick to the basics. If every guy has that mentality, the game starts to flow. If you start trying to pull rabbits from hats, that's when the problems start. You just have to trust in what you do and go out on the pitch and express yourself.
On the way to Murrayfield, I remember our big England-branded bus being met by a lot of hostility. There were the usual obscene hand gestures and in some instances, fellas flipping their kilts up at us. Both front and back! There was even a brass band that marched in front of us at 1mph to delay our arrival.
England versus Scotland is the longest running international and you're playing for the Calcutta Cup, so it's a fixture that is steeped in tradition and a rivalry between the two that is unsurpassed in my experience. Hostile environments like that inspire me. You just have to soak it up and enjoy it. If you block it out it can be counter-productive. After all, as soon as you cross those four white lines and the whistle goes, it's just a rugby game between 30 people.
The game itself was a very tight affair. It was one of those typical Six Nations occasions; freezing cold, a torrential downpour and played in the dark of late afternoon. There wasn't much between us at all. We won by just seven points. I couldn't have asked for more.
News from flexiseq
The personal information you are providing will help us to deliver, develop and promote Flexiseq products. Submitting your details indicates that you have read and agreed to our privacy and cookie policy. You can read our policies here.