What Arthritis Taught Me About Me - Chronic Eileen
"I decided to flaunt my flaws and express my vulnerability which made me so much stronger"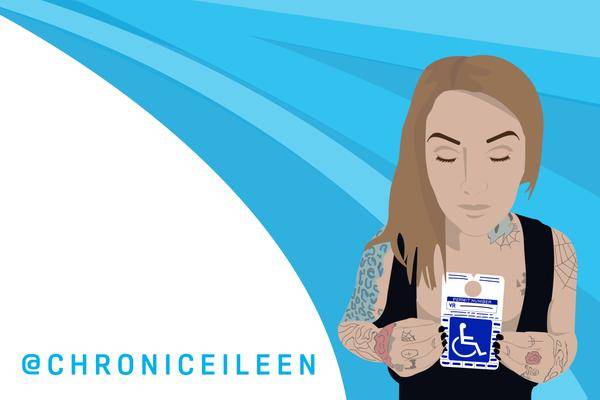 Eileen Davidson was diagnosed with rheumatoid arthritis, osteoarthritis and fibromyalgia all before she turned 33.
She's been a passionate patient advocate ever since.
An ambassador for Canada's Arthritis Society and on Arthritis Research Canada's Advisory Board, Eileen has used her popular blog 'Chronic Eileen' and well-followed social media channels to raise awareness about her conditions and to shed a light on how they affect her day-to-day life as a mother.  
She's an absolute inspiration and it was a privilege to chat with her.
So tell us, when you were first diagnosed with arthritis did you think it would impact your life the way it has?
I always sensed I was in for something based on the experiences of my aunt and grandmother. My aunt was always in a wheelchair or sitting, I never really saw her walk and she was always in pain. My grandmother had both knees replaced and used to cry in pain at night when she stayed with us. I never really understood her pain until I too was diagnosed with arthritis.
Arthritis doesn't just affect the person diagnosed, it affects their family and loved ones. It affects my mothering to my 6-year-old son, Jacob. Parenting is already a challenge, so imagine it with unrelenting fatigue and pain while getting by on disability benefits.
Arthritis is one of the most expensive conditions to treat, for the government and the patient. Once we know how debilitating the actual effects of arthritis are - it affects over 350 million people worldwide - you realise it is a much more impactful disease than most people realise.
We love your blog. Would it be fair to say you started writing with the aim of educating people on the reality of your conditions, the bits they don't see....
Absolutely. There are misconceptions, particularly that it affects just the elderly and that joint pain isn't that serious. But that's not the reality of living with the disease.
Arthritis is much more than just joint pain, there are over 100 forms [of the disease], many of which are autoimmune and few that take age into account. Even infants can be diagnosed with some forms. Arthritis is often invisible and when an illness is invisible people often take it less seriously.
Is writing a form of therapy for you? Does it help you better understand the mental impact it has on you?
Depression and anxiety are common symptoms with arthritis, so, yes. It helps with both my emotional state and my cognitive impairment. It can be so easy to forget things, so writing helps me digest my emotions and organise my thoughts. Then I get to share it to a wider audience in the hope that someone else finds it helpful. There is something so powerfully healing about expressing your thoughts and emotions, even more so when you are heard and understood.
The moment I realised I wasn't alone in my journey with this invisible illness had a huge impact on my life. If I can help anyone experience similar through my writing, then that's amazing.
You write about the ways arthritis has changed your life, do you think you've discovered a stronger version of yourself in the process?
Arthritis has taught me how to be strong. I was very insecure before my diagnoses. Having a chronic illness as young as 29 quickly teaches you that nothing in life is perfect and things don't always go as expected.
I decided to flaunt my flaws and express my vulnerability which made me so much stronger. Arthritis also made me fall in love with healthy eating and daily exercise, something I always struggled with before.
In your words, "arthritis is my villain and my blessing in disguise." Can you expand on this?
The lessons that come when you are diagnosed with a debilitating illness can give you a whole new perspective on life. I definitely feel more compassionate and empathetic towards others, especially people I didn't necessarily know or understand before.
Being diagnosed was a watershed moment. I always wanted to take better care of myself but I couldn't, I wasn't ready and didn't value my health as much as I should have. I was always so worked up about what others thought, I never felt free to be myself. I always had to be what others wanted. Arthritis has taught me to respect my body, myself and my needs.
You can read Eileen's blog here and make sure you follow her on Instagram, Facebook & Twitter.
News from flexiseq
The personal information you are providing will help us to deliver, develop and promote Flexiseq products. Submitting your details indicates that you have read and agreed to our privacy and cookie policy. You can read our policies here.