Ursula Malewski - CBD to get rid of aches and pains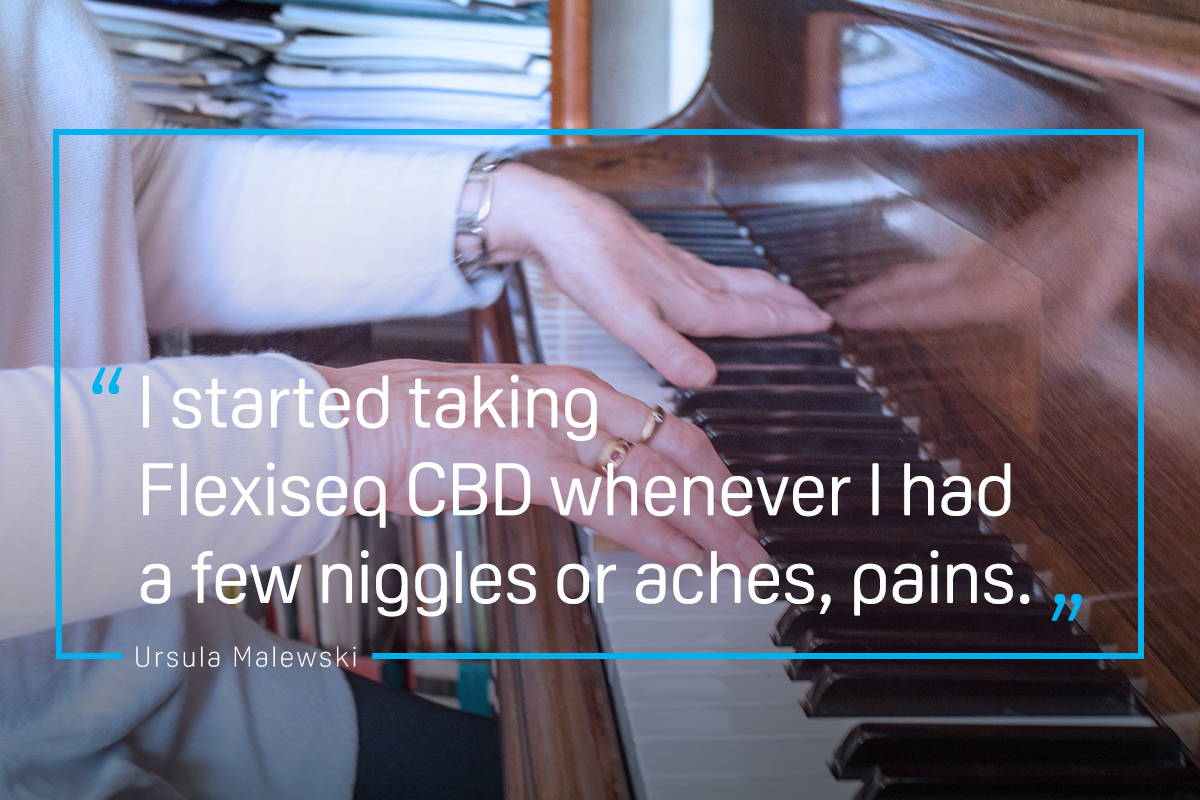 Ursula Malewski is a piano and singing teacher as well as an entrepreneur who, outside of lockdown restrictions, runs an annual jazz course.
Having seen the benefits of our FlexiSEQ gesl on her knee and knuckles she was interested in trying FlexiSEQ CBD.
This is Ursula's story…
I lead a busy life, I've got two young grandchildren who I'm fortunate enough to see regularly and they certainly keep me on the go. During lockdown I've been looking after some of my neighbours by doing supermarket shops for them as they are too vulnerable to go themselves. It's important for me to stay as active as possible, I still cycle when the weather is good, I've also got an exercise bike that I go on as much as possible and try to always hit a minimum of 6,000 steps a day.

I had a knee operation several years ago and after that my other knee took on a lot of the load and Flexiseq really helped. These days I rarely need it on my knee. Where I do need it is on my knuckles. They've just got to a point where they can feel a bit stiff and sore, what doctors call general wear and tear.
I've reached an age where I do occasionally wake up with a few aches and pains. So I was interested to see if Flexiseq CBD could help with those. I'd never tried a CBD product prior to Flexiseq CBD but having used and trusted Flexiseq when I saw they'd created a CBD product I was keen to know more. It's always better when it comes from a brand you already know and trust.
"I've reached an age where I do occasionally wake up with a few aches and pains. So I was interested to see if Flexiseq CBD could help with those."
Ursula Malewski
I am someone who tries to avoid pharmaceuticals where possible. It's always been a key selling point for me on Flexiseq that it is drug-free so I know I am not putting anything into my body that is potentially harmful. The fact Flexiseq CBD is all natural and non genetically modified immediately made it appealing. It's a natural product and it's nice to know it's THC free as well.
I started taking Flexiseq CBD whenever I had a few niggles or aches, pains. It's what I call a general discomfort with my body, usually due to a change in weather. I don't need to take it everyday, sometimes getting out of bed is a bit of a trial, and then getting moving is like in slow-motion, the whole body just doesn't feel right. That's when I take four drops of Flexiseq CBD under my tongue for 30 seconds as per the instructions and it usually helps within an hour of taking it. It just reduces the discomfort in my body and allows me to get back to feeling normal.
I would definitely recommend CBD to other people. Especially those who feel general aches and pains, it's just something to help with a general wellbeing. I have a friend who I'd love to try. She is a senior district nurse who suffers from rheumatoid arthritis. I think it could really help her. I don't think at any age you should be taking too many pharmaceuticals, I think your body becomes dependent on them so if there is a natural alternative like Flexiseq CBD I'd always much rather go down that route.

News from flexiseq
The personal information you are providing will help us to deliver, develop and promote Flexiseq products. Submitting your details indicates that you have read and agreed to our privacy and cookie policy. You can read our policies here.