Never Stop Fighting - Martin Green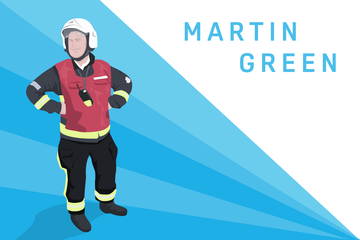 When it comes to sharing inspiring stories and warm words of encouragement, the Flexiseq Facebook community is second to none.
After spotting Martin Green's positivity in the comment section, we thought we'd get in touch with him for a chat. His story blew us away.
Here he is in his own words...
I was a fish farmer, baker, delivery driver, town planner. I did all sorts before becoming a firefighter. From the moment I started, I realised I was in the best job in the world. I did it for 30 years.
You need to be physically fit, well that's the general idea anyway. Most of us were quite sporty. As our chief always reminded us, you had to be able to get into a place and take your equipment with you otherwise you were useless.
Physically, knees, ankles, backs, shoulders and necks took quite a hammering. They reckon going out on a fire call is the equivalent stress to working three weeks in an office. Naturally, there were big highs and big lows. The attrition experienced by your body over the course of your career, can you imagine? It takes a toll. I loved doing it, but it could be hard graft.
I have injuries in each knee from judo and rugby and I also have advanced prostate cancer.
Treatment is going pretty well. They can't cure it at the moment but I've done seven weeks of radiotherapy and I've got another 15 shots to do. They hit the prostate directly, where the main tumour is, and then anything up to three metastases where its spread. At the end of this, they reckon it could give me up to another three years of life, which is a brilliant step forward.
Coming across Flexiseq was the best thing. Honestly, I thought I wouldn't be able to walk again properly. Due to all the radiotherapy and chemotherapy, my joints were dried out. They became a bit 'clicky' from not moving. I was getting frustrated. You put on a lot of weight from the treatment of this type of cancer. I tried running - I only went a mile and a half - but after the initial good feeling wore off, it felt like I'd been running bone on bone in my knees. I was in real agony.
When my pharmacist heard I was on Warfarin for my cancer - you need blood thinners to prevent a pulmonary embolism when you're doing chemo - he told me I couldn't use non-steroidal drugs like Voltarol. Instead, he showed me Flexiseq, which is drug-free, and said, 'this is good'.
I came home, put it on, went to sleep, woke up the next day and it had started to feel better. Over the next four days it got progressively better and by day four, I was back to normal. I was staggered! I didn't think it would work like that at all. It was absolutely incredible. It got me raving about it on Facebook.
I'd like to start cycling, I can't yet, but I'm certainly walking long distances now, between two and four miles a day. I have to exercise, it's something I've always done and I miss the endorphins if I don't. It helps you hang on to a sense of self.
My local rugby club runs a big international festival every year for kids up to 12-years-old. About 6,000 people come from all over the world, from Canada, the US, Australia, New Zealand, South Africa to take part. This year, we're going to run a prostate cancer testing day at the event. There's a lot of great stuff coming out of my situation.
News from flexiseq
The personal information you are providing will help us to deliver, develop and promote Flexiseq products. Submitting your details indicates that you have read and agreed to our privacy and cookie policy. You can read our policies here.