Mary Byrne - "It's time to get back on the dance floor!"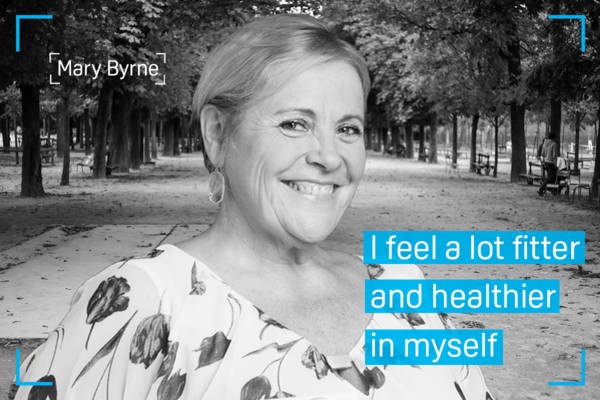 Mary Byrne is best known for her successful stint on The X-Factor, alongside a little known boy band called One Direction. The much-loved Irish singer and TV presenter is also a huge advocate of Flexiseq and is one of our lovely brand ambassadors alongside Len Goodman and Brad Barritt.
A sufferer of chronic arthritis and an underactive thyroid, Mary recently managed to shift a staggering four stone thanks to dieting, being active and her rekindled romance with dancing. We sat down with Mary to chat salsa dancing, fitness, Flexiseq and her boundless new found energy…
I just want to salsa…
A few years ago with too much weight and bad knees I couldn't go dancing. I always wanted to do salsa and I always wanted to learn how to waltz. Now that I feel a lot fitter and healthier in myself, I'm ready to give it a go. I wouldn't just be able to go out and become a professional dancer but it's about getting back out there and feeling the rhythm that I know I have in my body.
It's about finding your rhythm...
It's amazing that I can actually dance now. My knees are feeling a lot better now thanks to losing the weight. And thanks to Flexiseq my knees are much more mobile, I can bend them far easier than before which means dancing is back on the agenda. I can shake my hips more!
They used to call me 'snake-hips'...
I very rarely went to clubs but when the music came on I'd be there wiggling my hips with the best of them! I love hearing music that makes you want to move. It's why I like salsa, I'd love to be able to do that!
I love a bit of Strictly Come Dancing…
Anton du Beke is brilliant. I remember him with Ruth Langsford last year and I just loved the camaraderie they had, they were like friends more than anything else and I loved what he brought. Ruth was able to do things that she probably never imagined. I love the way Anton helped her achieve that. He's one of the guys I love to see move and he can move! If you look back to Gene Kelly, he did tap dancing but he also did choreography and a lot of modern ballet stuff.
To stay active you've got to find something you enjoy doing.
Sometimes getting out of bed and going to the gym is the last thing you want to do. For me I have to force myself but there are other things I know I love doing that are great for my physical and mental wellbeing. I've found going for a walk does wonders for me, not just physically but mentally too. If you walk often enough and it becomes a routine, you find your legs won't be getting so stiff. Arthritis is one of those diseases that can sneak up on you if you don't stay active. If you're sitting down for too long everything tightens up in the joints and makes them ache.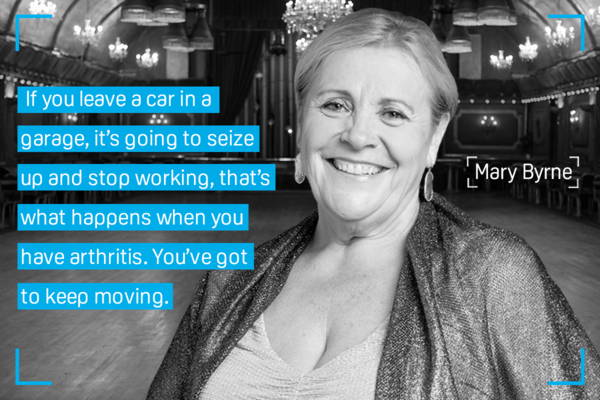 Dogs are great motivators…
I'll get up in the mornings and go out with the dogs across the field for 30/45 minutes. It doesn't matter what pace you're doing - you're walking, you're moving, your blood is pumping and your arthritis will begin to feel the benefits! It might ache and hurt to begin with but by moving you and your arthritis are not sitting and seizing up. If you leave a car in a garage, it's going to seize up and stop working, that's what happens when you have arthritis. You've got to keep moving.

There isn't enough awareness about arthritis…
A lot of doctors don't realise what it's like for an arthritis patient and the sheer amount of pain we are constantly in. Your body constantly aches, so it's important to use the proper products to help us get through it. Flexiseq really helped me, that alongside regular exercise.
Arthritis is a constant battle.
But don't lose faith. Stick at it and keep being really proactive with your arthritis.
My hope is to get back on the dance floor.
All these little things combined, the exercise, the right mentality, and being determined to be fit and healthy can help get me back on the dance floor. Who knows, if things go right I might even get a shot at Strictly! Wouldn't that be amazing.
Do you want to get moving? Do you want to win a year's supply of Flexiseq to help you? Then enter our #LetsGetMoving competition by telling us your mobility story on Facebook or Twitter using the hashtag #LetsGetMoving. T&Cs apply, to get some inspiration here how Len Goodman did it HERE.
News from flexiseq
The personal information you are providing will help us to deliver, develop and promote Flexiseq products. Submitting your details indicates that you have read and agreed to our privacy and cookie policy. You can read our policies here.