Lisa Thake - The Joys Of Being Active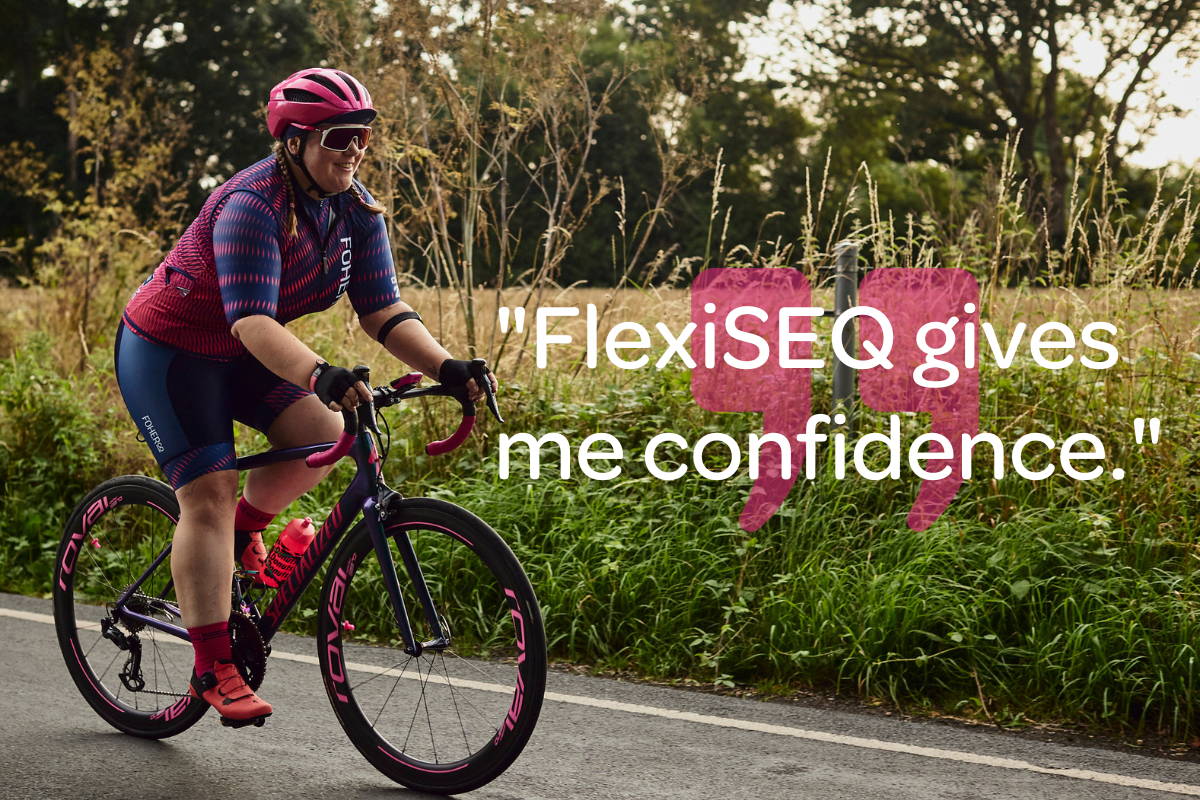 By her own admission Lisa Thake was never an active person. But when she saw how much her husband was loving cycling she began to give it a go herself. Since then she has set up Fat Girl Fit, a blog dedicated to encouraging and empowering people at every fitness level to get out and get active.

But having done one too many events in too short a period of time, Lisa started to develop knee pain.
This is Lisa's story…


A few years ago my husband developed quite a serious condition in his leg called primary lymphedema which essentially causes the blood in his body to travel down to his foot and then not come back up again. He was told he needed to lose weight as a result and fell in love with cycling.

So while my husband was getting active and becoming a certified British Cycling coach, I was watching from the sidelines, usually with a large glass of wine in hand. I could see how much he enjoyed being active and what a difference it made in his life.

As a result I took up cycling - not to keep up with him, just as a fun way to stay active. I was enjoying it so much that I wrote a couple of reviews here and there, and a friend suggested I start a blog. That's how Fat Girl Fit came about.

Crucially, it's not meant to be taken too seriously; I want it to be a normal person's view that hopefully people can relate to. If the byproduct of that is that others are inspired to try to be more active then that makes me really happy.


"Because I write my blog I often get people asking questions about what I use and which products help me to stay active. FlexiSEQ is one I always recommend."
Lisa Thake
My knee pain came about from a mud run I was doing. I can only assume adrenaline kicked in at the time because I didn't realise I'd hurt it. Then I was doing a lot of big cycle rides. My husband and I did a 200 mile ride in Sweden, and then I did a 100 mile ride in Birmingham and after 6 miles my knee was in agonising pain.

I had physio, I had acupuncture, I had cortisone injections. But nothing was really helping it. The doctors essentially told me after an MRI that I had wear and tear in the joint. My mum has osteoporosis and my grandad's got rheumatoid arthritis, so I'm very aware of my joints. Even the smallest of twinges in my knee made me panic and I would think, "oh I have to stop cycling". Which is the last thing you should do, especially when cycling is great for knee joints as it's low-impact. It took me so long to come back from the injury that I didn't want to go back to that place.
Then one day I put a post on Instagram about my knee and someone from FlexiSEQ saw it and offered to send me some FlexiSEQ gel to try. Because I'd been through so much with the knee I was naturally sceptical, especially as it's drug-free. "How is that going to work?" I thought. To begin with I didn't feel much of a difference, but then after a week or so of using Flexiseq I realised it was really helping. Now it's become part of my recovery process. After a long ride I make sure to put on FlexiSEQ. I'm about to go a 195 mile cycle round a huge lake in Sweden and FlexiSEQ is one of the first things that goes in my little first aid kit.
Because I write my blog I often get people asking questions about what I use and which products help me to stay active. FlexiSEQ is one I always recommend. I'll be honest, for some the fact it's drug-free is a real attraction but for me I was at the point of willing to try anything. The fact it is drug-free and works so well is just a bit of a bonus to me rather than a game-changer. I refuse to endorse anything I haven't tried myself and believe in, so when I try something new and it works it makes me so happy to be able to tell my readers about it.

I'm happiest when I'm on my bike so I commute to work everyday on it, which is about 14 miles there and the same back. Knowing I've got something like FlexiSEQ there to look after my knee gives me confidence to keep doing what I love.

News from flexiseq
The personal information you are providing will help us to deliver, develop and promote Flexiseq products. Submitting your details indicates that you have read and agreed to our privacy and cookie policy. You can read our policies here.