Honor Taylor - Walking Her Own Beat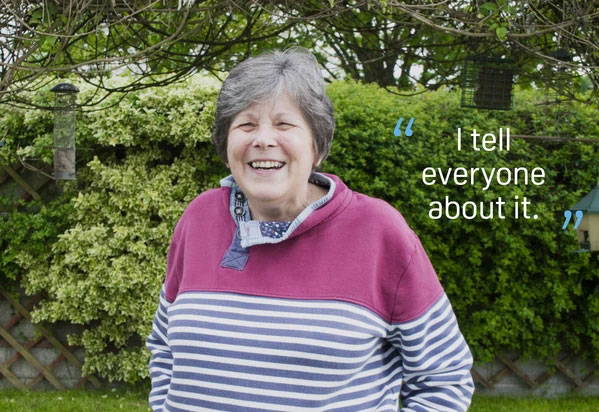 Honor Taylor spent most of her life on the move, which made it especially hard to accept that, aged 65, problems with her joints threatened a future of painful operations to keep her mobile. However, after one excruciatingly painful night Honor stumbled upon the answer...
I love…
helping my husband in the garden and looking after my grandchildren. There's a wide age range from 15 down to 5, and recently a little one of 18 months. Grand kids keep you very active, and they keep me young, I'm always in the garden playing or kicking a football. I get involved as much as possible.
For our holidays we…
go to our caravan in Wales. Derek, my husband, goes fishing and I take a stroll to see him or pop into town, I like to look around gardens.
Before I retired I was…
a school secretary and I was a volunteer special constable. It was quite an active lifestyle. I suspect the osteoarthritis might have come about from all those years walking the beat. When I was a special constable we couldn't drive cars so there was a lot of walking everyday. I did that for 16 and a half years. I ended up in a rank similar to that of an inspector. I miss it a lot.
My joint pain was in my…
knees, my left thumb and shoulder in particular. I was diagnosed with arthritis in my knees. My shoulder has come about due to a frozen shoulder many years ago. I couldn't lift it for a long time and can't lift it properly now.
I first encountered Flexiseq when…
we were in Wales and one night I woke up in excruciating pain with my knees. I was crying, the pain was so bad. I went to the chemist in town the next morning. I told him I couldn't take ibuprofen because I am allergic but could I use ibuprofen gel on my arthritic knees? He told me I couldn't but he told me they'd just got a new product in, Flexiseq. I went home, put it on my knees and that night only woke up once. It worked that quickly, the effect was that good.
Without Flexiseq...
I would have ended up needing an operation on my knees. I haven't been back to the doctor about my knee since he first diagnosed it years ago. Since starting Flexiseq I haven't needed any kind of medical treatment on my knees. The sooner it's on prescription the better because I think it's going to save a lot of NHS money in knee operations.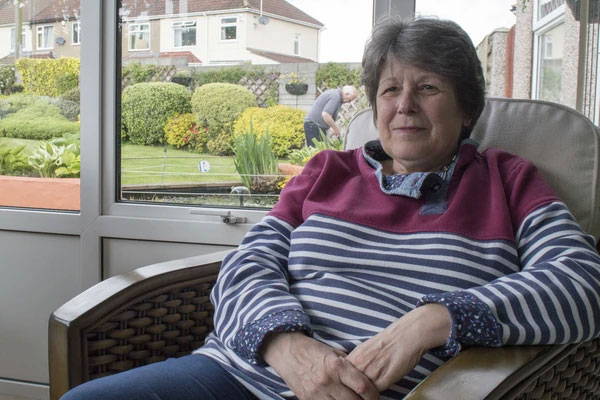 It's great because…
I have kidney issues which means I can't take a lot of medication. With Flexiseq I know I'm not putting any chemicals into my body that are bad for it.
I tell everyone…
about it. A woman at the caravan park had a bad knee so I gave her a dollop of Flexiseq and the next day she was pain free. I told her she had to go and buy some, I couldn't keep giving her mine. I've become a Flexiseq dealer [laughs]. We've got a 97 year old friend who uses Flexiseq. He's got terrible knee problems. I took him some and he called me a couple of days later and said, 'I don't think it's working.' Then a couple of days later, 'That gel, where can I get more, it's working!'. Derek and I went over to his house and he sat with him while I went out and bought him two more tubes.
These days my husband has…
noticed a big difference. Before we go on a long journey he's always the one to make sure I've put it on my knees. He keeps an eye on me like that. On the way to Wales last time we switched driving and as I walked around the car he said, 'You forgot to put stuff on your knees this morning didn't you'. He could tell by the way I was walking, just a little stiff really.
News from flexiseq
The personal information you are providing will help us to deliver, develop and promote Flexiseq products. Submitting your details indicates that you have read and agreed to our privacy and cookie policy. You can read our policies here.