Anne Wetten - Managing Pain With CBD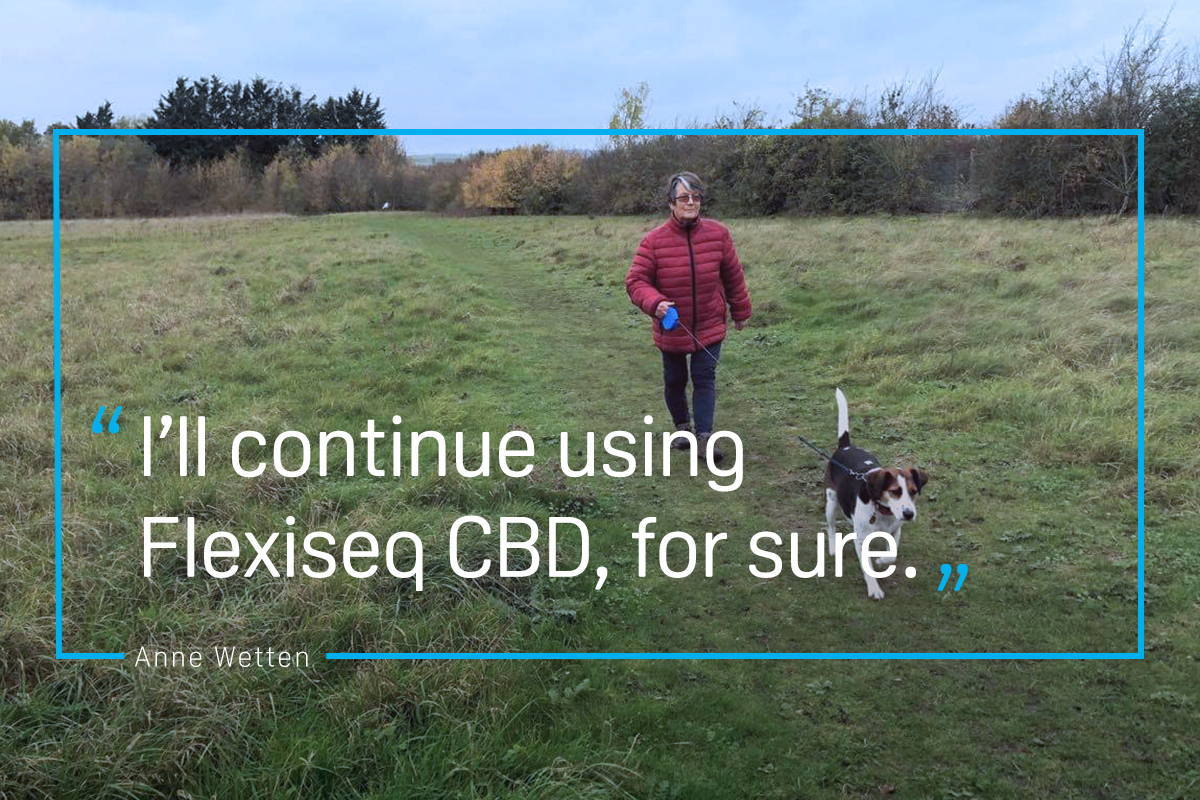 Anne Wetten has been a horse enthusiast throughout her life. Now 76 and with a few riding accidents under her belt, she's developed a number of issues that cause her pain.
Reluctant to undergo surgery, she's instead taken a different route; a natural and organic one.
For a couple of years, Anne has been using CBD products and is a recent convert to Flexiseq CBD.
This is Anne's story…
I've always been passionate about horses. I started riding when I was 12 years old and then spent most of my life competing in dressage and showing at county shows. I've had three horses of my own over the years.
Of course, the problem with riding is that at some point, you're going to come off your horse! I've done that a number of times over the years and as a result have a shopping list of aches and pains. I've got arthritis in my knee, a frozen shoulder and sciatica in my back. The last is particularly bad; the doctors think I've trapped a nerve in two places. You fall off enough horses and it really takes a toll on your body.
Twice, I've been offered operations but I've refused to have them. I just couldn't bear the thought of all the rehabilitation that I was going to have to go through. Despite the pain I'm in, I've never let it stop me doing the things I love. Quite the opposite, in fact.
"I started using CBD oil because I heard it can help with pain. Given the amount I was in I was willing to try anything.."
When the doctor told me that I had arthritis in my knee, he said, "Whatever you do, you must keep walking and keep walking as far as you can each day." With that in mind, I'm out walking at least a mile a day with my Beagle-Jack Russell called Johnny.
I started using CBD oil because I heard it can help with pain. Given the amount I was in I was willing to try anything. Personally, I've always preferred to go the drug-free route where I can, it's why I've been using Flexiseq on my arthritic knees. When I heard via Facebook that Flexiseq was also launching a CBD product, I was quick to ask for a simple.
It's been great. I take it two or three times a day without fail and find it really helps me manage my pain. It allows me to walk the dog with a bit more confidence. Although if he sees another dog I'm often in trouble as he has to shoot off to say 'hello' to absolutely every other dog he sees.
I had previously tried CBD pills but I'm really liking the oil of Flexiseq CBD, it's got a lovely earthy flavour to it. To me that's nice, it reminds me that I'm taking something from nature, something organic.
When you get to my age, a lot of your friends come down with various ailments, many of mine have hip and shoulder issues, as well as arthritis in different areas. As a result, I'm always recommending CBD products. I tell them, if it works, great. You've got something else to work with. You have to give these things time though, it's not going to work instantly.
We live in a world where people expect things to work immediately, but you have to give your body a chance to understand what it's doing. I'll continue using Flexiseq CBD, for sure.
News from flexiseq
The personal information you are providing will help us to deliver, develop and promote Flexiseq products. Submitting your details indicates that you have read and agreed to our privacy and cookie policy. You can read our policies here.