A Beginner's Guide To Running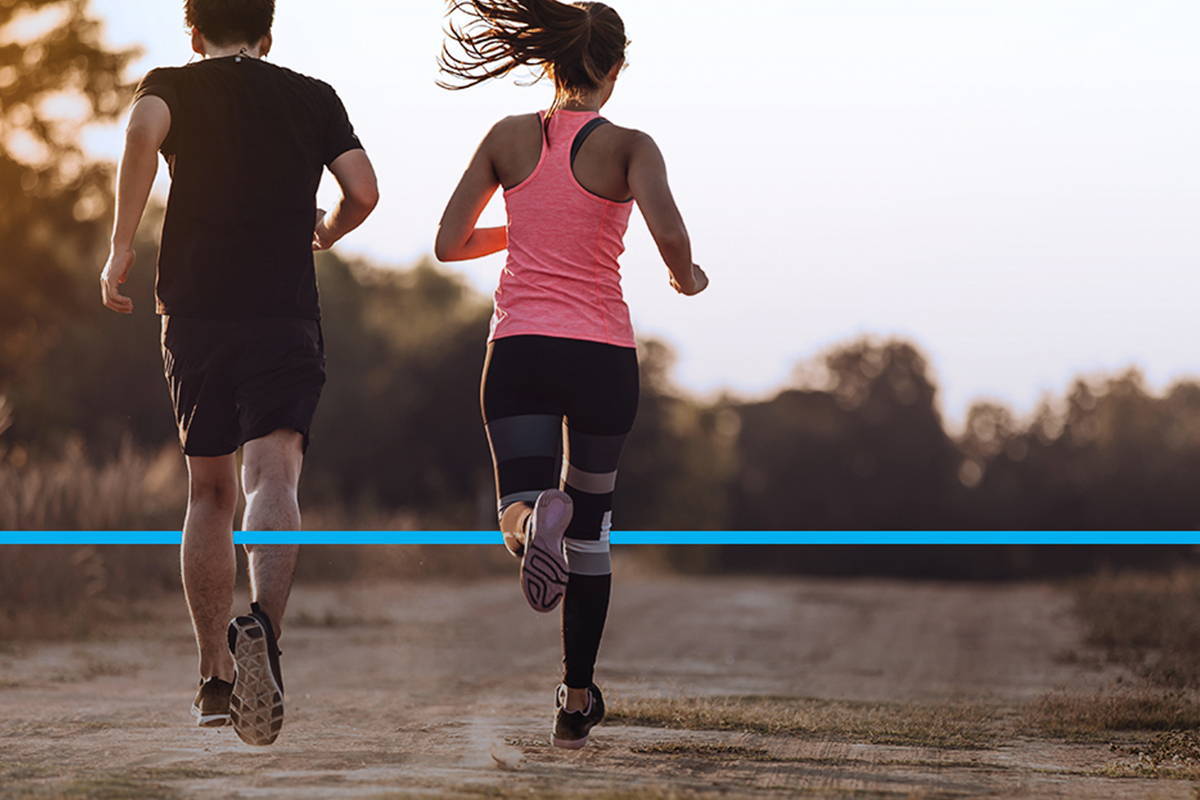 If you're living with osteoarthritis or the pain caused by joint wear and tear, you might consider it counterintuitive to take up running.
As it turns out, numerous studies have demonstrated that regular running - even in middle-aged people with a preexisting knee condition - can reduce pain and, in some instances, even improve the state of damaged knee cartilage.
What's more, as the NHS points out, running "burns more calories than any other mainstream exercise" and, done regularly, can "reduce your risk of long-term illnesses, such as heart disease, type 2 diabetes and stroke" and "help you keep your weight under control".
If you're looking to ward off osteoarthritis that final point is particularly important. According to the experts at Runner's World, "being overweight is also associated with chronic low-grade inflammation throughout the body; by helping you to stay at a good weight, running makes it less likely that your joints will be subject to this potentially damaging inflammation."
Finally, running also makes you feel great. A recent study of 8,000 runners revealed that "89% of runners said that running regularly made them happier, as well as having a positive impact on their mental health and body image."
Tempted to give it a go? Not sure where to start? Keep reading for a few handy tips for beginners.
---
Whether you're a total novice or it's simply been a while since you reached for your trainers, stepping out for a first run can often feel a bit daunting. We suggest if you're over 40, have a BMI of 35 or higher, or family history of heart disease, you might want to chat with your doctor first.
To avoid injury and to ease yourself into the experience, start slowly. A warm-up doesn't need to include an extensive stretching routine but you should consider spending five minutes raising your heart rate.
These simple warm-up exercises will do just the trick or you could start with a brisk walk.
When you're ready to get going, set yourself a realistic target (this could be a marker in the distance, a designated distance or time) and, if you feel it necessary, start by alternating between running and walking during your first session. As time goes on, you'll find the running intervals become longer and eventually you won't need to walk at all.
It's natural to feel a bit self-conscious initially but do your best to ward off any negative thoughts. Honestly, nobody else cares how often you stop, whether you're a bit red in the face or how much you're sweating. You're at the start of a process; one that literally every runner will have been through.
When you're ready to call time on your run, we suggest a simple cool-down routine to help ease your body into a state of rest. A cool-down also helps your body to eliminate lactic acid that can build up after exercise, something important when it comes to joint pain.
---
Whatever level you're starting from, it's always easier to stay motivated when you set yourself a defined goal. Whether you're signing up for a marathon, trying to complete 5K without stopping or working to cover a certain number of miles in a month, you'll find it much easier once you identify your target and then put a plan in place to succeed.
Assuming you're willing to run with your phone on you, there are a host of smartphone apps available to help you track your mileage, times and progress.
The NHS-backed Couch to 5K app (iTunes & Google Play) is particularly popular with absolute beginners. It was developed by a new runner, Josh Clark, who wanted to help his 50-something mum get off the couch and start running, too. The plan involves three runs a week, with a day of rest in between, and a different schedule for each of the nine weeks. If that sounds like a lot, don't worry, the first week's sessions involve running for just one minute at a time.
If you're looking for some in-ear coaching while you run, Nike Run Club, Adidas Runtastic and EndoMondo are all worth considering. Strava, Runkeeper and Garmin Connect are also great if your primary aim is to track your stats. This handy video by The Running Channel takes you through the above and more.
If you're not so fond of technology, you can always map out the routes you want to tackle in advance of your run and then keep a diary of your progress. All you'll need to do is remember to wear a watch.
---
The beauty of running is that you can do it wherever and whenever you want.
As you start to build up your stamina, you'll want fewer distractions - nobody wants to be closing in on a PB only for a busy road to sap your momentum - so parks always make for a scenic escape. On some days you might want to avoid hills, on others you might fancy the challenge of a steep incline. The fun thing is knowing you never have to run the same route twice.
As for when you run; again, it's entirely down to you and your lifestyle. Some people swear by a jog before breakfast others can't think of anything worse. Some days you'll be planning a run and the weather will be foul so you can't. Don't beat yourself up if you can't make it out or if life gets in the way. Just promise you'll do your best to try again whenever it's next convenient.
Once you get into a bit of a routine, you'll find it's much less of a chore. So many beginner runners are amazed by how quickly their bodies adapt and how willing they become to push themselves further and longer.

Just ask Richard Shields. With a little helping hand from Flexiseq, he discovered a passion for running he thought impossible when he was first diagnosed with osteoarthritis.
---
While a huge industry has developed around running gear, you really don't need anything more than a decent pair of running trainers to get started.
If you're only just starting out, there's little point shelling out big money on a state-of-the-art shoe; you're not racing Eliud Kipchoge! Instead, head to a specialist running retailer, explain your beginner status and they'll be able to advise on a shoe that best supports and suits your feet and running style.
When it comes to what else you wear, it's up to you. Women are advised to consider using a sports bra, which is sturdier than a regular bra and provides additional support, and everyone should consider at least one garment with a zip pocket for items such as keys. You definitely don't want those to fly out when you're a few miles from home!
If you're taking your phone with you to track your runs, you could consider lycra garments with special phone pockets, armbands or elasticated running belts.
---
When you first start running, there are various aches and pains you're likely to encounter. From stitches in your side and cramp to blisters on your feet (invest in Compeed!) and post-run muscle ache, most are run-of-the-mill ailments that your body will overcome quite quickly. It helps to run when you're properly hydrated, suitably fuelled and have had a good night's sleep.
If you experience sustained pain in your muscles or joints during a run - so bad that your running stride changes or you're left limping - you should stop immediately. Listen to your body and react accordingly, you don't need to act the hero by pretending you can run it off.
You should then take a few days off before gently easing your way back into things. If you think you've done serious damage you should get in touch with your doctor.
---
While some people love running for the alone time it affords them, others are drawn to the sociable side; the chance to jog with friends, to compete against others and to share the highs and lows whether in person or on social media. If you think you might take motivation from the group running, you can find your nearest club via RunTogether.

It's also worth checking out Parkrun, who for years have put on free, weekly, community events all around the world. Their events are "positive, welcoming and inclusive experiences where there is no time limit and no one finishes last. Everyone is welcome to come along, whether you walk, jog, run, volunteer or spectate."
News from flexiseq
The personal information you are providing will help us to deliver, develop and promote Flexiseq products. Submitting your details indicates that you have read and agreed to our privacy and cookie policy. You can read our policies here.