A Beginner's Guide To Pilates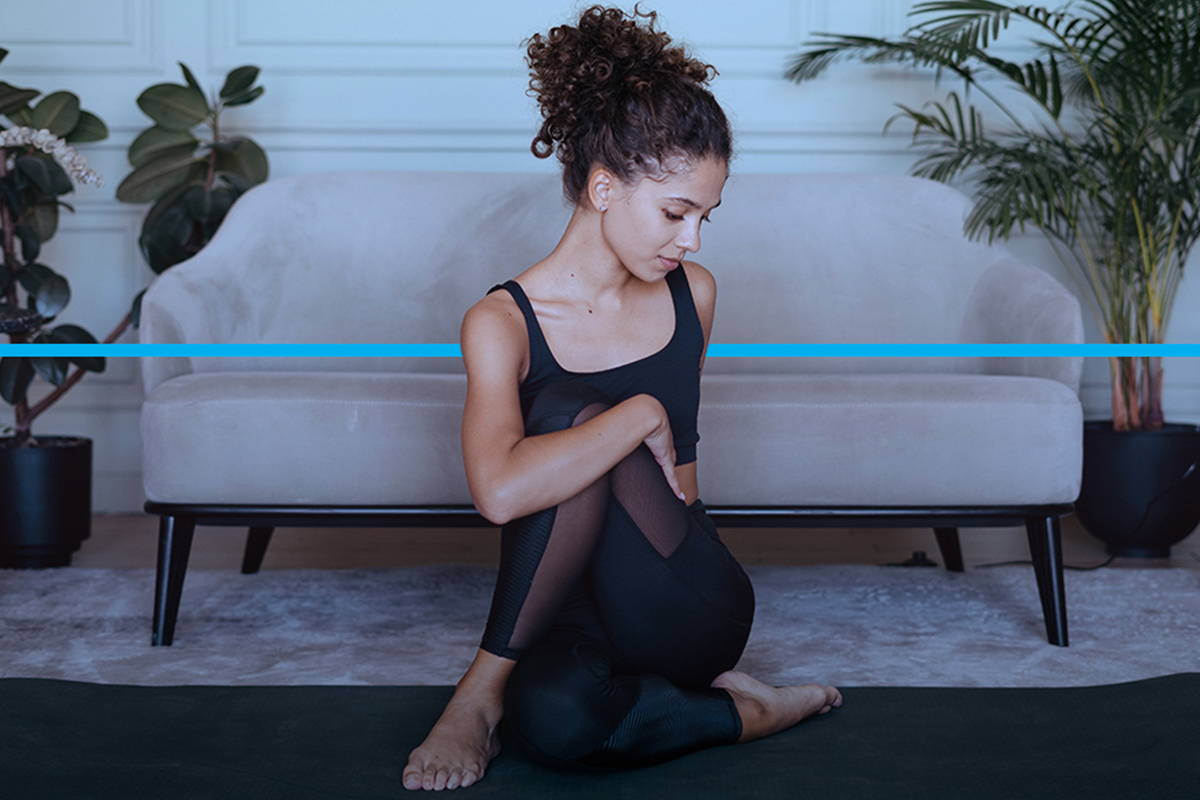 Are you looking for a low impact, beginner friendly exercise regime that you can do from the comfort of your own home? Pilates might be just what you're looking for! You don't need any pre-existing experience and you don't have to be super fit or flexible: you just need to be willing to spend a little bit of time (it could be 5 minutes a day or an hour a few times a week - it's all up to you) to practice.
You might not be able to enjoy a Saturday morning pilates class in person right now, but there are tonnes of apps, books and helpful videos that can help you get started. Interested in giving pilates a try? Read on to find out everything you need to know.
Pilates is a strengthening and conditioning exercise discipline which is suitable for all ages and abilities - and you can do most of it lying down. If the idea of doing endless squats, burpees and crunches turns your stomach, don't fear: pilates is a low impact workout which focuses on improving your strength, flexibility, mobility, posture and mental well being.
While there is no one size fits all when it comes to exercise, pilates has been known to help with symptoms of arthritis, lower back pain, slipped discs and other conditions.
Pilates is full of small, deliberate movements designed to strengthen your core. Don't be fooled by the apparent lack of exertion, however. Pilates may not have you jumping about, but it can be hugely beneficial for your fitness levels.
We spoke to Gaby Noble, founder and teacher at Exhale Pilates, to find out more. "There are beginner exercises that are taught at the start that create a strong foundation to lead you onto stronger, more challenging exercises," she says.
"With regular Pilates practice 2-3 x per week you will build a strong and connected body. You'll have more strength, stretch, stamina and control and a deeper understanding of how Pilates can really help you in everyday life and keep you moving around more freely and pain free."
Joseph Pilates was a formerly sickly child who was determined to improve his own fitness and strength - and it worked. Influenced by boxing, gymnastics and wrestling, Joseph ended up founding a discipline called 'controlology' in the 1920s (which only became known as Pilates after his death).
Joseph believed that mental and physical health were closely linked and, alongside the exercise itself, put a lot of emphasis on centering, control and breath.
Pilates has tonnes of benefits that can help everyone from total fitness newbies to pro athletes.
Pilates can help improve flexibility, strength & muscle tone
Pilates works your whole body, leading to even conditioning
Pilates is great at developing core strength, which can be really beneficial
Pilates can help with injury recovery
Pilates can help with back pain, including lower back pain.
Can be beneficial for the symptoms of arthritis and other long term pain conditions
Pilates can be beneficial for post natal care
Pilates can improve posture and strengthen the spine
Pilates can help with everyday pain and boost energy.
You don't need to spend a fortune on pilates, but some things that will help you get started are a mat (or towel!) to work on, comfortable loose clothes, and (if you're planning on doing some online classes or following instructional videos) a phone, tablet or laptop.
There's no need to fork out on expensive gym wear when doing pilates: all you really need are non-restrictive clothes that you can feel comfortable in such as a tshirt and some leggings or jogging bottoms. You should also ensure you have enough space around the mat that you can move your arms and legs and have a bottle of water nearby.
"All you need is a mat (a thick yoga mat will work just fine) or towel to lie on! For our online classes, you will need to have downloaded Zoom onto your phone, tablet or computer and access to Wifi.
In private sessions or themed classes, some teachers like to work with Magic Circles, resistance bands, small Pilates balls, light weights and foam rollers, but the classical mat flow does not require any additional equipment other than your body and a mat," says Gaby.
While in-person classes are not currently available, many studios, such as Exhale Yoga and Katies Pilates,  are offering online mat classes via Zoom which you can do from the comfort of your own home. The NHS also has a great instructional video on pilates for back pain which you may find helpful if you've been working at home in a less than ideal workspace. There are also some great books on pilates which you can use for reference.
Some studios also post instructional videos on various pilates exercises on their Instagram pages and may also do Instagram lives where you can follow along in real life. Some good accounts to follow are Natalie.Clough, pilates.by.georgia, amandabisk, and pilatestv. Youtube is also a great resource where you can practice alongside a wide range of videos. Jessica Valant Pilates, Move With Nicole, The NHS, and IsaWelly are really great, accessible channels to get started with.
Exercise is a really important part of a healthy lifestyle, but it can be hard to get motivated to move - especially in colder weather. Pilates is a really beneficial, low impact form of exercise which you can do from the comfort of your home, it's pretty cheap to get started and it can help you strengthen your muscles and improve posture - both of which can help with the pain of arthritis and other long term pain conditions. Do you do pilates? Do you have a favourite exercise? Let us know on Facebook!

News from flexiseq
The personal information you are providing will help us to deliver, develop and promote Flexiseq products. Submitting your details indicates that you have read and agreed to our privacy and cookie policy. You can read our policies here.