5 Simple To Do At Home Exercises For Arthritis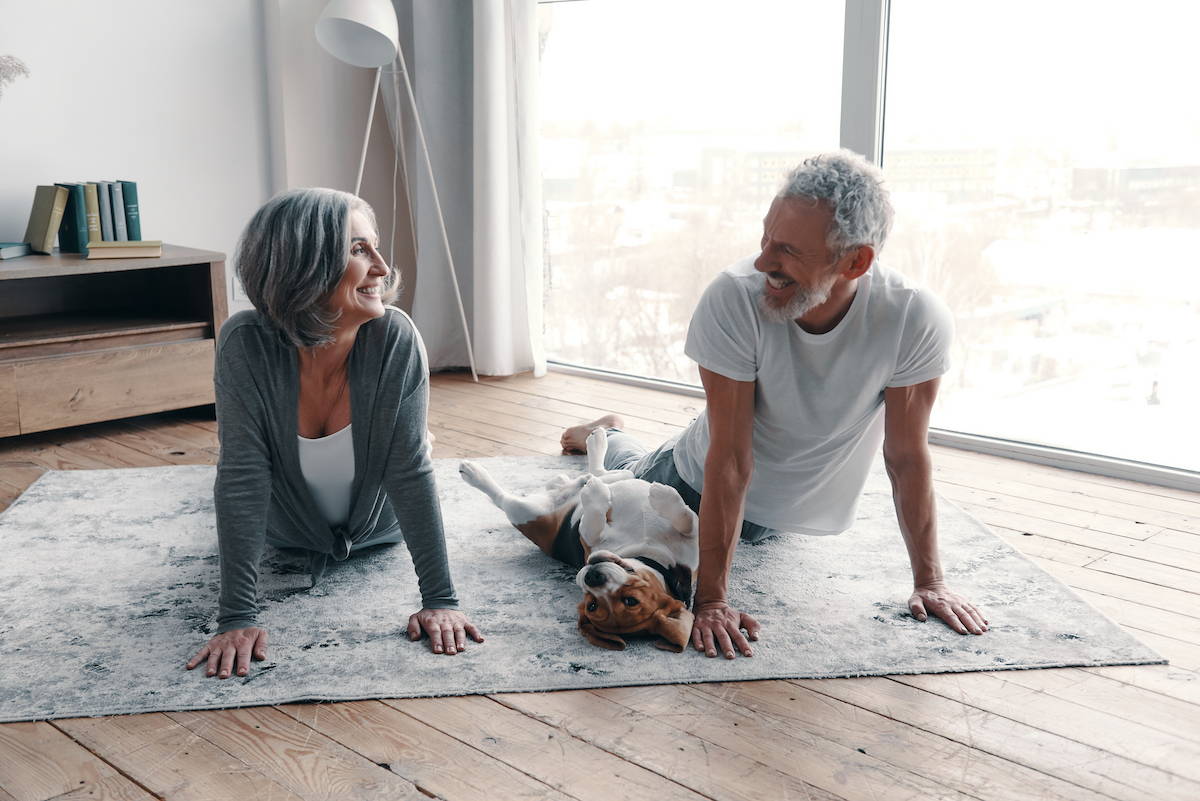 You may have heard that 'movement is medicine', but we know that can be hard to believe when you have a chronic health condition and even the smallest movements are causing you pain.
It may be the last thing you want to do, but exercise can actually decrease pain in the long term. "Regular exercise is essential as it helps to strengthen the muscles that protect and support the joints," says David Vaux, therapies manager and exercise lead at Arthritis Action. "Exercise has even been proven to help reduce the pain of arthritis and improve function."
Exercising doesn't have to mean going for 10k runs - in fact, you don't even have to leave the house! Some people like going to the gym or exercise classes, but you can also get the same results from the comfort of your own home. Read on for our tips on simple exercises to do at home when you have arthritis!
You may be worried that strength training could damage your joints further, but when done correctly and as part of a regular exercise programme, strength training can actually help protect the joints. The stronger your muscles are, the better they will be able to support your joints, whilst the weaker they are the worse your arthritis may become. Strength training can also help improve stiffness, pain and contribute to maintaining a healthy weight.
You don't need a gym membership - or even your own set of weights - to do strength training. Why not use objects that are lying around the house - like small water bottles, packets or rice or beans, canned foods or a milk jug - and do reps with them?
Make sure you can easily grip whatever you're using without hurting or twisting the hand and that it isn't too heavy. Squats, lunges, shoulder presses and other compound exercises are great for a full body workout, but you can also adjust the workout to suit your needs.
Remember that you can always sit down when doing arm or shoulder exercises to take the pressure off your legs. Not sure what to do? There are loads of Youtube workouts and apps available too. Speak to a doctor or physiotherapist if you have any concerns about strength training.

Yoga is a diverse practice that can help you strengthen your muscles, improve flexibility, enhance mobility, promote better sleep, reduce stress and improve mindfulness.
It's easy to do yoga in your own home because all you need is a mat and a bit of floor space. There are many types of yoga and positions you can practice, and there are always variations you can do if the full pose doesn't feel accessible. From simple stretches to more advanced full practice combinations, you're bound to find something that feels good.

If you're interested in doing yoga at home, why not download an app like Downward Dog or follow along with a free Youtube tutorial?
Pilates is designed to strengthen your core muscles for a balanced body and aligned spine. It can also increase blood flow, develop back muscles and heighten mental focus. Pilates is a low impact form of exercise, and like yoga you can get a lot out of pilates with just a mat.
Pilates may feel more accessible than more rigorous forms of exercise because it often involves floor work, but that doesn't mean it's easy or not worthwhile; pilates can have numerous full body benefits and help your body to start working in harmony.
Interested in trying pilates? There are many Youtube videos - like this one from the NHS - that you can try. Speak to your doctor or physiotherapist if you have any questions or concerns.
Tai chi is a slow, low-impact and mindful type of exercise that can improve your posture, balance and mobility, boost muscle strength in your legs and reduce stress. Tai chi may also help reduce the likelihood of falls as you get older.
Tai chi is a great choice if you have arthritis because it is an easy and accessible form of exercise which can help reduce stiffness (and the pain associated with it), and like yoga and pilates it can help improve your mind-body connection. Tai chi doesn't require much space or equipment and is really easy to practice at home. Interested? Consider following along with a Youtube video to give it a try.
You don't need to stand to exercise. If you have limited mobility - or if you just want to stay on the sofa - then there are loads of upper body stretches and exercises you can do from a seated position.
Shoulder rolls, seated cycling, side stretches and cat stretches are some of the many seated exercise options available to try, and you can even do seated yoga! Arthritis Action has a handy seated exercise sheet that you can take a look at for more inspiration.
Always take things at your own pace and don't push it. It's normal to feel a little sore after a workout, especially if you're not used to using that set of muscles, but you shouldn't feel any sharp pain. You may also want to consult your doctor or physiotherapist if you have any concerns.

What are your favourite exercises to do at home? Let us know on Facebook.

News from flexiseq
The personal information you are providing will help us to deliver, develop and promote Flexiseq products. Submitting your details indicates that you have read and agreed to our privacy and cookie policy. You can read our policies here.