Spinach & Aubergine Curry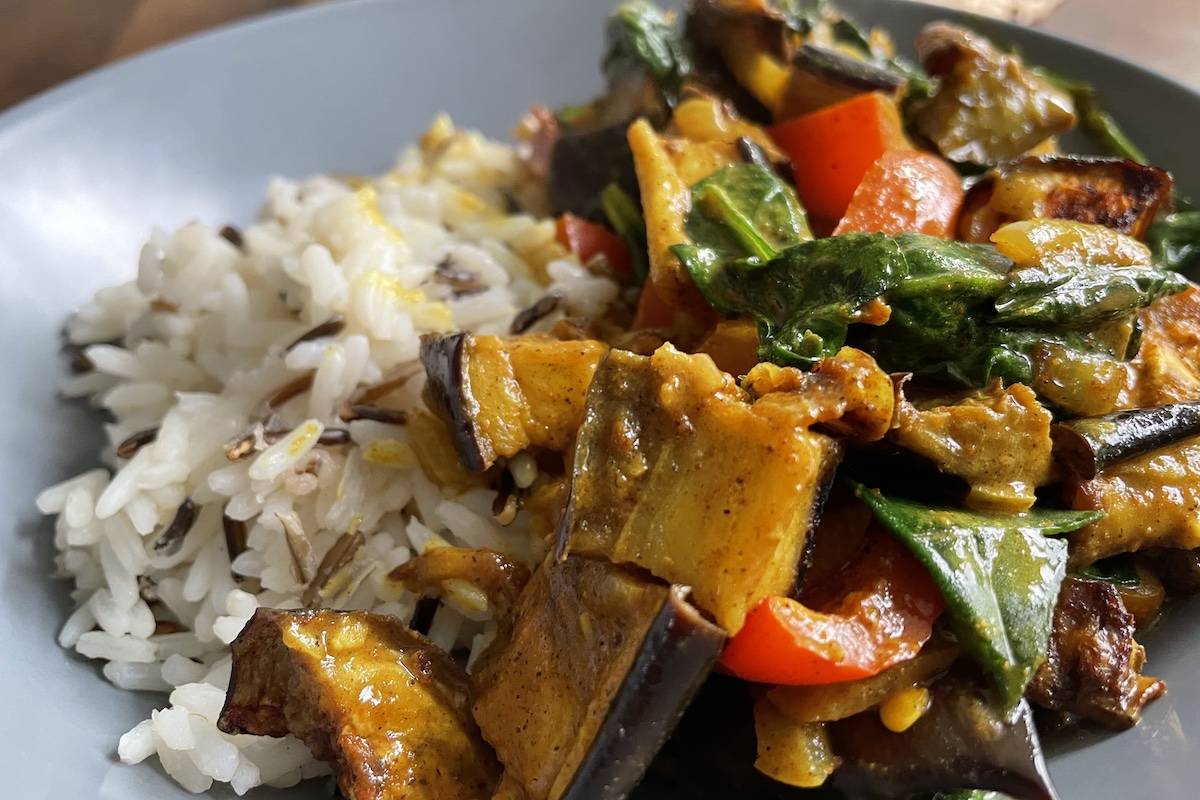 If you're living with joint pain or osteoarthritis, it's widely acknowledged that symptoms can be alleviated by tinkering with your diet so that mealtimes include ingredients packed with anti-inflammatory properties.

Finding recipes that get the taste buds tingling is the easiest way to switch to a healthy diet. Our latest arthritis-friendly recipe is simple, quick to make, bursting with flavour. Try this spinach and aubergine recipe.
PLEASE NOTE: some people believe that members of the nightshade family, like aubergine and peppers (both included in this recipe) can make joint pain worse. While there is no scientific evidence to support this - and in fact there is evidence to support that these vegetables can form part of a healthy, balanced diet - everyone is different. If you know members of the nightshade family cause you pain then please find alternatives to swap-out in this recipe; for example, it would work well with tofu or broccoli.
Read on for the full recipe and if you give it a go let us know on Facebook.

Anti-Inflammatory Ingredients
Spinach is high in an antioxidant called kaempferol. A study in 2017 treated damaged cartilage with kaempferol and found it reduced inflammation and prevented the progression of osteoarthritis.
Turmeric has been shown to have antiinflammatory properties and clinical trials based on those taking it as a supplement showed those with joint pain felt less pain when climbing stairs compared to those who were taking ibuprofen. Text
Cinnamon has long been known to have a number of healing powers, but crucially for arthritis it contains two antioxidant properties that can be greatly beneficial to joint health. The first is procyanidin, which is common in berries, oranges and aubergines, and contains anti-inflammatory properties. The second is catechin which helps prevent cell damage, and recent studies have shown it can also inhibit cartilage breakdown.
Limes, like many citrus fruits, are packed full with vitamin C which is known to reduce the levels of inflammation in the body. Studies have shown getting enough vitamin C can help maintain joint health and prevent inflammation.
Garlic contains diallyl disulfide, an anti-inflammatory compound that limits the effects of pro-inflammatory cytokines. As a result, garlic can help fight inflammation and may even help prevent cartilage damage from arthritis.
Olive oil has many properties that can help you look after your joints. Studies have shown it contains a compound called oleocanthal which prevents the production of pro-inflammatory enzymes - the same way ibuprofen works. It is widely accepted that - as part of a Mediterranean diet - it can benefit those living with joint pain. Be sure not to heat the oil too high as this can destroy some of its beneficial properties; a moderate heat is more than enough to achieve what you need here.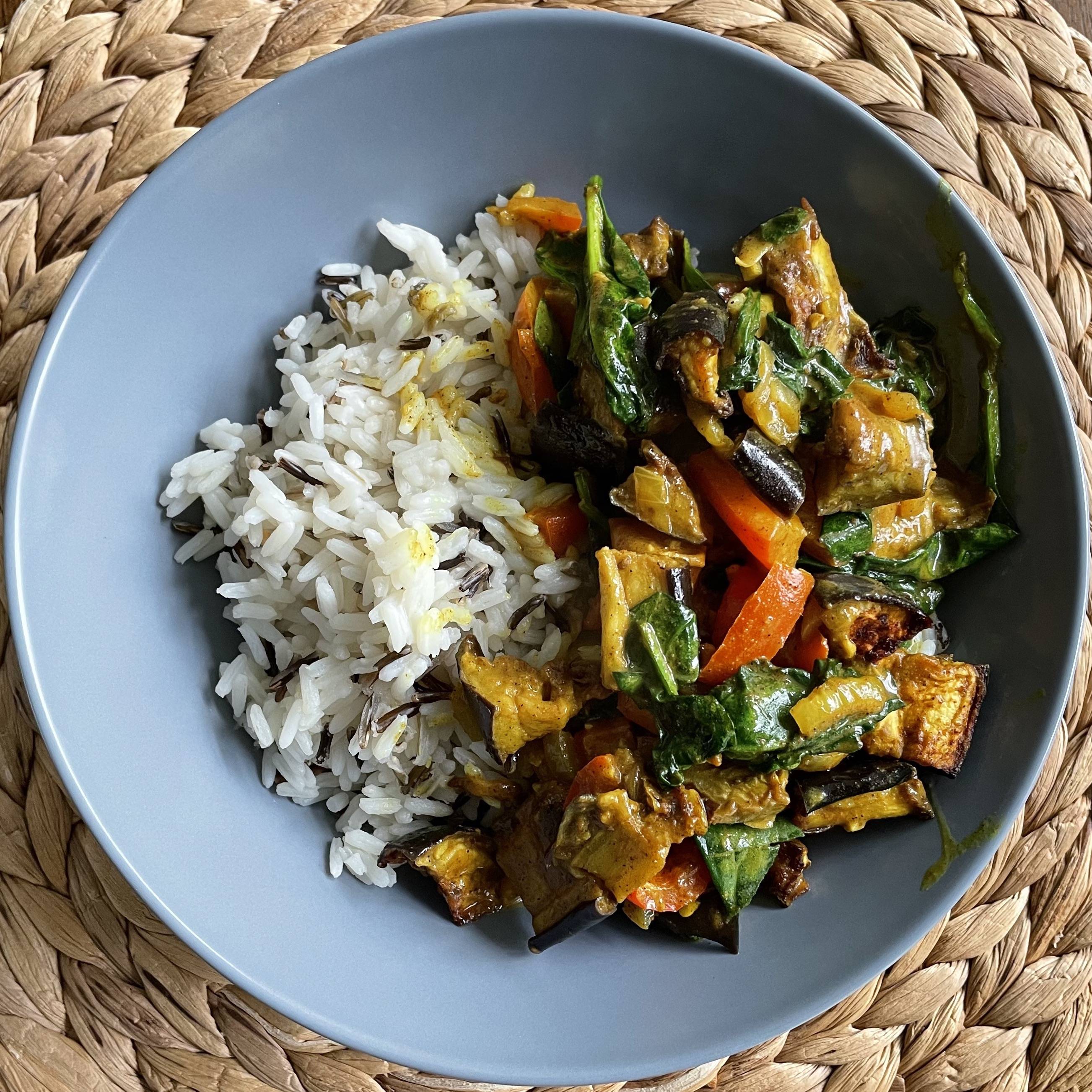 Serves: 2                                                                                                                                                               Cook + Prep Time: 40 mins
---
Ingredients:
2 aubergines, cut into rough chunks

3 cloves of garlic, finely chopped

2 handfuls of spinach

2 limes squeezed for their juice

½ teaspoon of ground turmeric

1 teaspoon of cinnamon

2 red peppers, roughly chopped

½ teaspoon of chilli powder

1 onion, finely chopped

2 teaspoon of curry powder

2 tablespoon of extra virgin olive oil

400g of coconut milk

200g wild rice
---
Instructions:
Heat the oven to 200C and place the aubergine chunks onto a baking tray. Drizzle with 1 tablespoon of olive oil and a pinch of salt if desired, and add the chilli powder. Mix it all together and then place in the oven for 30 minutes.

Cook the rice as instructed, remembering to leave time for it to sit and absorb the water.

While the rice and aubergines are cooking, heat a large pan over a medium heat and add the second tablespoon of olive oil. Once the oil is hot add the garlic and onions. Cook until the onion becomes soft and translucent.

Add the cinnamon, turmeric and curry powder along with the red peppers. Cook for a couple of minutes until the peppers begin to soften.

Add the lime juice and the coconut milk and simmer for 15 minutes.

Once the aubergines are cooked, add them to the pan with everything else and heat together. Add the spinach and allow it to reduce.





Place a bed of rice on a plate and serve the curry from the pan next to it.

News from flexiseq
The personal information you are providing will help us to deliver, develop and promote Flexiseq products. Submitting your details indicates that you have read and agreed to our privacy and cookie policy. You can read our policies here.