Sesame Seed Salmon Stir Fry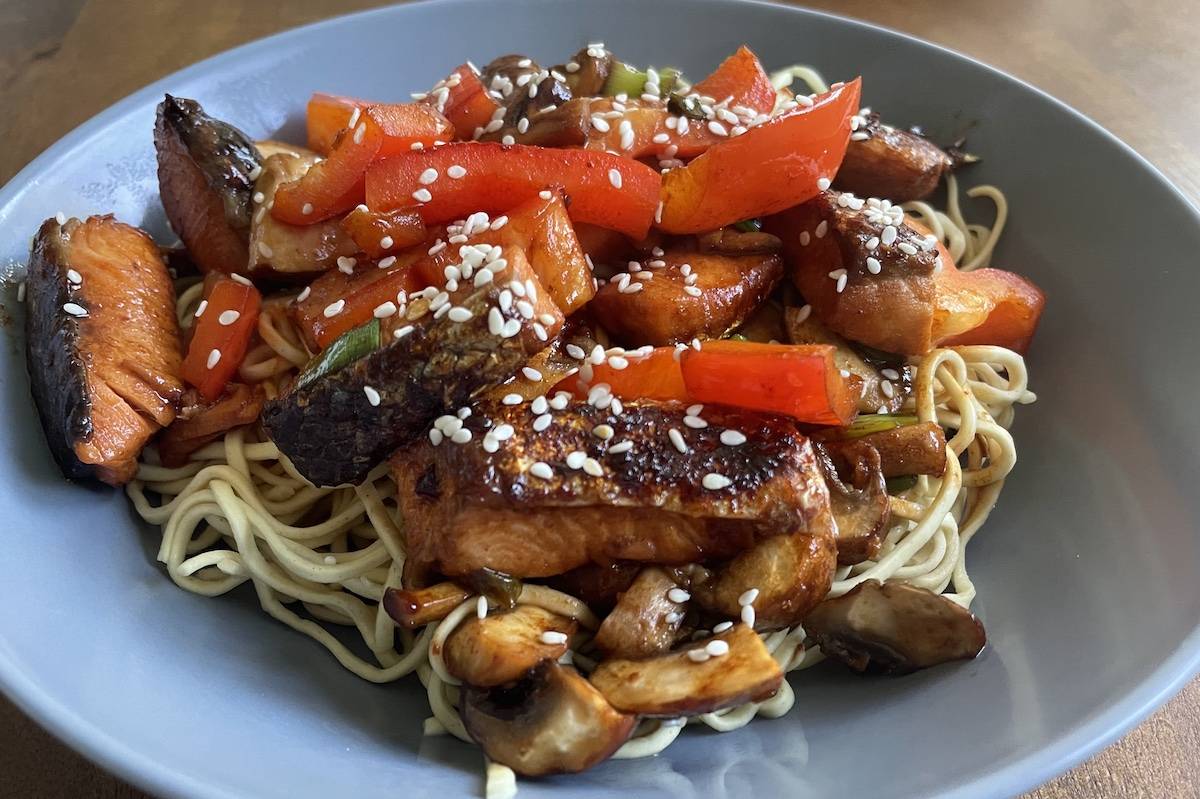 If you're living with joint pain or osteoarthritis, it's widely acknowledged that symptoms can be alleviated by tinkering with your diet so that mealtimes include ingredients packed with anti-inflammatory properties.

Finding recipes that get the taste buds tingling is the easiest way to switch to a healthy diet. This simple to make but sesame seed salmon stir fry is packed with flavour and ingredients that are good for arthritis and joint pain. Give it a try and let us know how you liked it on Facebook.

PLEASE NOTE: If you have allergies to any of the ingredients in this or any of our other food related blog posts then it might not be suitable or safe for you. If in doubt please consult your GP or healthcare professional.



Anti-Inflammatory Ingredients
Salmon is considered an 'oily fish' which means it is packed with omega-3 fatty acids. Many studies have shown a 'Mediterranean diet' including oily fish can be key in helping ease the inflammation of joint pain. The reason for this is that omega-3 fatty acids have anti-inflammatory properties. Salmon is also rich in calcium and vitamin D which is great for bone health. Many experts agree that regularly eating food rich in omega-3 fatty acids can help manage joint health.
Peppers are packed full of vitamin C which preserves bones and could protect cartilage cells.
Sesame seeds contain a compound called sesamin that has anti-inflammatory properties and antioxidants that can help protect cartilage. They might be small but they are mighty.
Mushrooms have anti-inflammatory properties and are also one of the richest sources of vitamin D outside of meat. Vitamin D is essential in supporting healthy bones, muscles and immunity.
Olive oil has many properties that can help you look after your joints. Studies have shown it contains a compound called oleocanthal which prevents the production of pro-inflammatory enzymes - the same way ibuprofen works. It is widely accepted that - as part of a Mediterranean diet - it can benefit those living with joint pain. Be sure not to heat the oil too high as this can destroy some of its beneficial properties; a moderate heat is more than enough to achieve what you need here.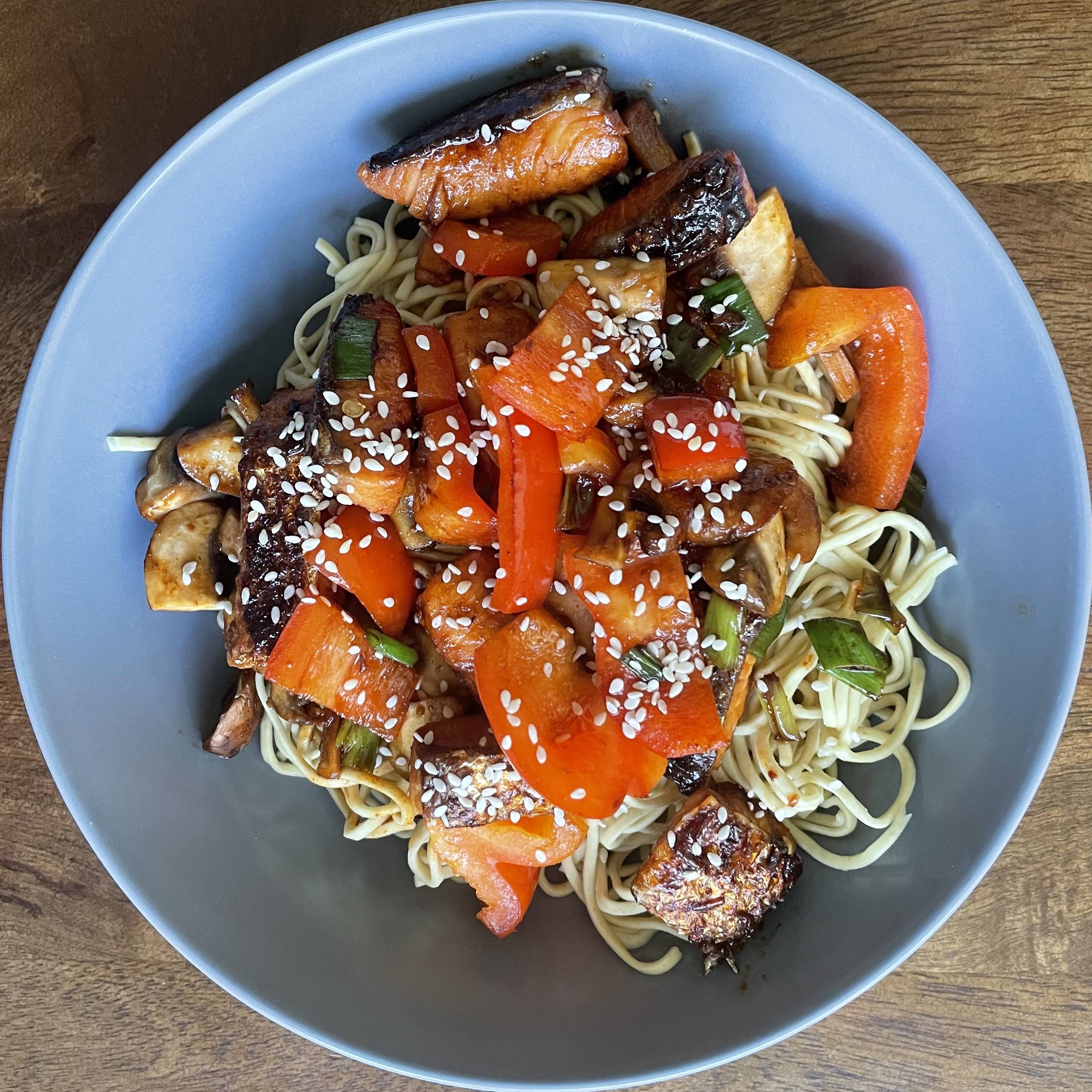 Serves: 2                                                                                                                                                                  Prep + Cook Time: 30 mins
Ingredients
240g salmon fillets, diced into chunks
200g sliced mushrooms
200g egg noodles
1 sliced bell pepper
1 tbsp sesame seeds
1 tbsp cornflour
1 tsp garlic powder
1 tsp paprika
½ tsp chilli powder
1 tbsp olive oil
Sauce:
2 tbsp soy sauce
2 tbsp olive oil
1 tbsp maple syrup
1 tsp sesame oil
Instructions:
Put the noodles on to boil as per the instructions on the packet.
Mix the sauce ingredients together in a jar.
In a bowl, mix together the cornflour, garlic powder, paprika and chilli powder. Coat the salmon chunks in the mixture.
Gently heat 1 tbsp of olive oil in a pan and add the salmon chunks. Fry the salmon for 8-10 minutes on a meium heat. Remember to keep turning the salmon so it cooks evenly and doesn't burn.
Add the mushrooms and pepper to the pan and fry for a further 2-3 minutes until the mushrooms begin to brown a little.
Drain the noodles and place a bed of noodles into two bowls.
Equally share the salmon stir-fry mix from the pan on top of the noodles.  
Evenly drizzle the sauce over both bowls and serve.

News from flexiseq
The personal information you are providing will help us to deliver, develop and promote Flexiseq products. Submitting your details indicates that you have read and agreed to our privacy and cookie policy. You can read our policies here.