Sesame Salmon With Sweet Potato Mash & Broccoli

If you're living with joint pain or osteoarthritis, it's widely acknowledged that symptoms can be alleviated by tinkering with your diet so that mealtimes include ingredients packed with anti-inflammatory properties.
Finding recipes that get the taste buds tingling is the easiest way to switch to a healthy diet. Our latest arthritis-friendly recipe is a sesame salmon with potato mash and broccoli which is quick and easy to make, not to mention a great way to get some joint-friendly ingredients in. Give it a try and let us know how you liked it on Facebook.

PLEASE NOTE: If you have allergies to any of the ingredients in this or any of our other food related blog posts then it might not be suitable or safe for you. If in doubt please consult your GP or healthcare professional.

Anti-Inflammatory Ingredients

Salmon is considered an 'oily fish' which means it is packed with omega-3 fatty acids. Many studies have shown a 'Mediterranean diet', which includes oily fish, can be key in helping ease the inflammation of joint pain. The reason for this is that omega-3 fatty acids have anti-inflammatory properties. Salmon is also rich in calcium and vitamin D which is great for bone health. Many experts agree that regularly eating food rich in omega-3 fatty acids can help manage joint health.
Sesame seeds contain a compound called sesamin that has anti-inflammatory properties and antioxidants that can help protect cartilage. They might be small but they are mighty
Sweet potato gets its bright orange colour from carotenoids which are an antioxidant. This can help protect tissue from damage, which could help maintain joint health.
Broccoli is known as a superfood, and with good reason. It's packed with calcium, known for its bone-building and strengthening attributes, is rich in vitamins C and K and contains sulforaphane which can help prevent or slow the progression of osteoarthritis.
There is still a lot of research being done into the benefits of ginger. However, what is known is that ginger contains two compounds - gingerols and shogaols - that possess anti-inflammatory and antioxidant properties.
Garlic contains diallyl disulfide, an anti-inflammatory compound that limits the effects of pro-inflammatory cytokines. As a result, garlic can help fight inflammation and may even help prevent cartilage damage from arthritis.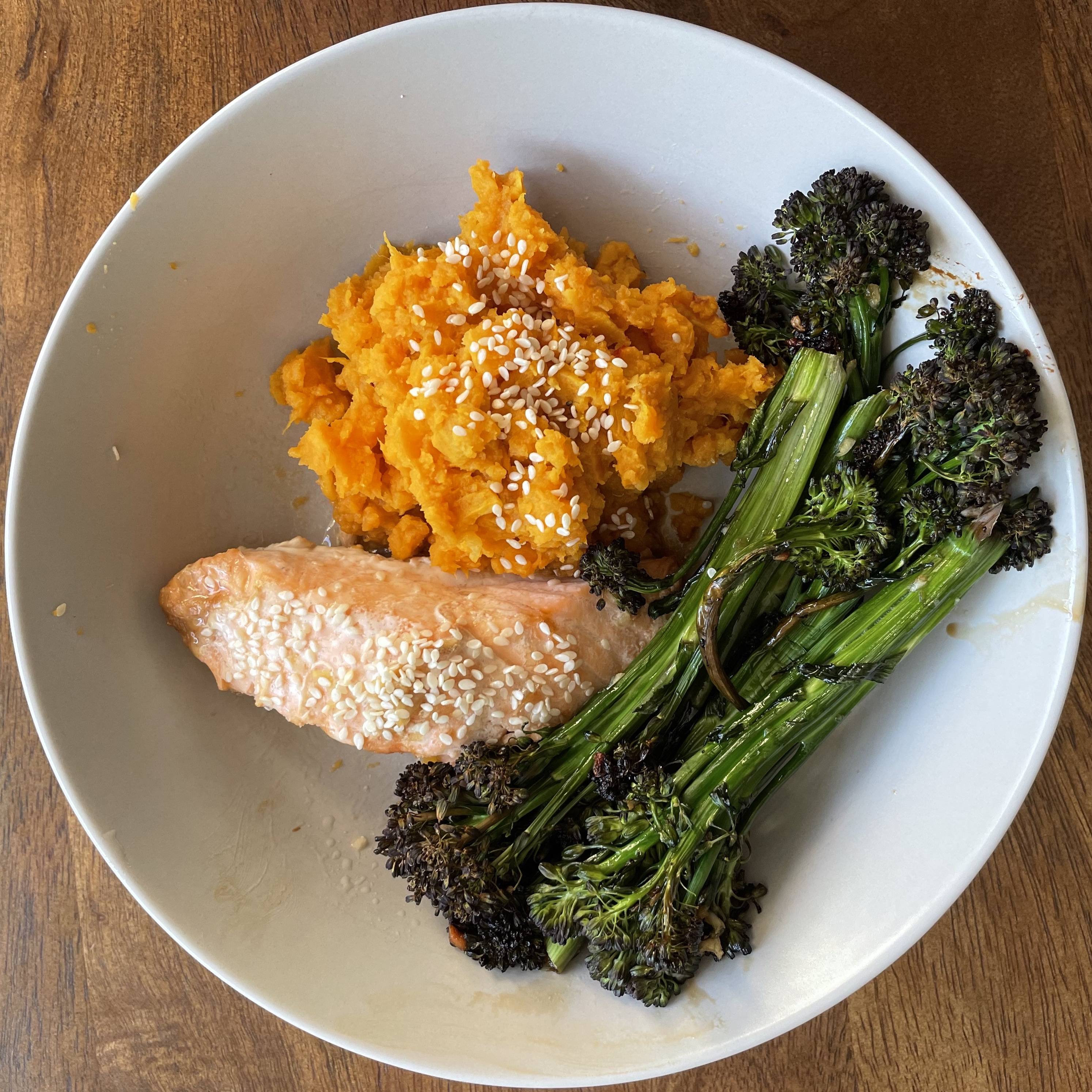 Serves: 2                                                                                                                                                                Prep + Cook Time: 30 mins
Ingredients:
2 boneless skinless salmon fillets (roughly 240g each)
2 sweet potatoes, peeled and cut into cubes
200g tenderstem broccoli
1 small (thumb-sized) piece of ginger, grated
1 tbsp of sesame seeds
1 garlic clove, crushed
1.5 tbsp sesame seed oil
1 tbsp low-sodium soy sauce
Instructions:
Preheat the oven to 180C (200C for non-fan assisted / gas mark 6). Mix together 1 tbsp of sesame oil with the soy sauce, ginger and garlic.
Put the sweet potato cubes into boiling water for 10-15 minutes until they are soft.
Place the broccoli and salmon on some tin foil or baking paper on a baking tray and drizzle with the mixture of sesame oil, soy sauce, ginger and garlic.
Place in the oven and roast for 12-15 minutes.
While the salmon is cooking, mash the sweet potatoes.
Remove the salmon and place it with the broccoli and mash on plates. Sprinkle over the sesame seeds and serve.

News from flexiseq
The personal information you are providing will help us to deliver, develop and promote Flexiseq products. Submitting your details indicates that you have read and agreed to our privacy and cookie policy. You can read our policies here.