Lemon Baked Cod With Garlic & Broccoli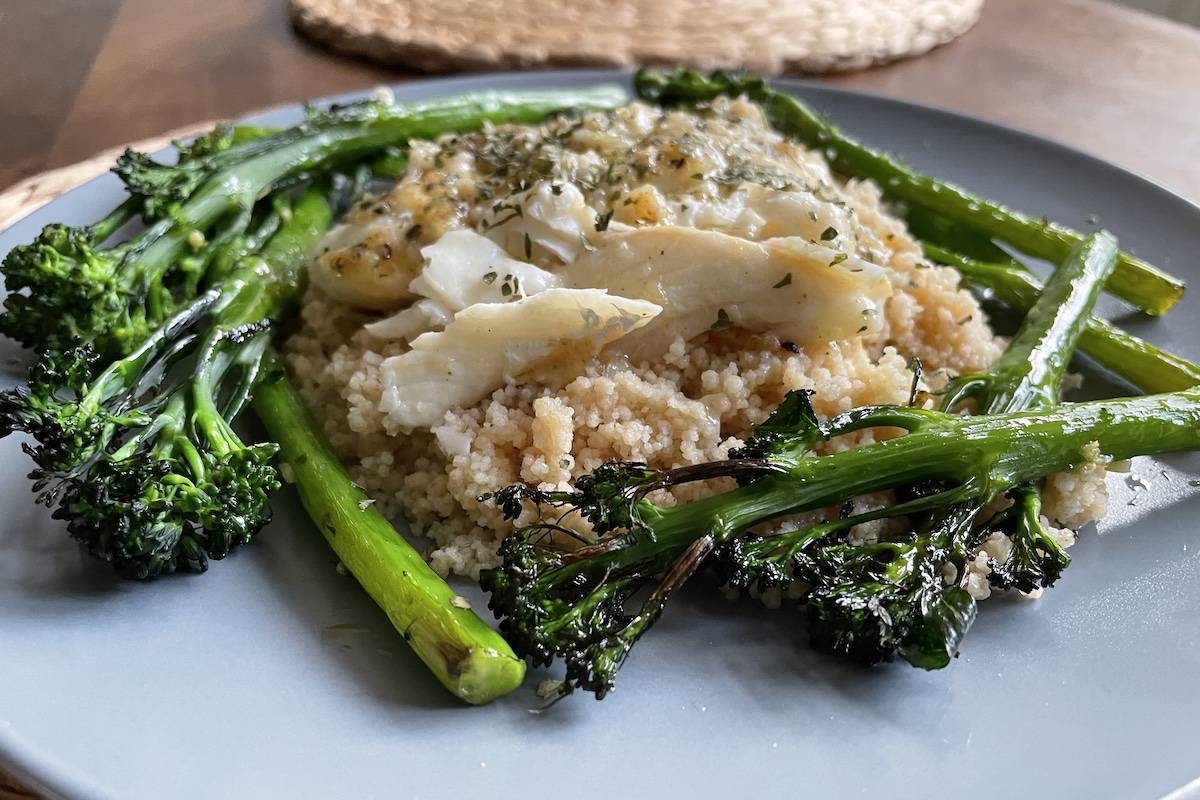 If you're living with joint pain or osteoarthritis, it's widely acknowledged that symptoms can be alleviated by tinkering with your diet so that mealtimes include ingredients packed with anti-inflammatory properties
Finding recipes that get the taste buds tingling is the easiest way to switch to a healthy diet. Our latest recipe is quick and easy to make and packed with arthritis-friendly ingredients.

Why not try this delicious lemon cod with garlic and broccoli on a bed of couscous and let us know how you like it on Facebook.
Anti-Inflammatory Ingredients

Extra virgin olive oil

Besides being an excellent low-calorie source of protein, cod contains a variety of very important nutrients and has also been shown to be useful in a number of different health conditions. It's a good source of blood-thinning Omega-3 fatty acids, as well as an excellent source of vitamin B12 and B6.
Garlic contains diallyl disulfide, an anti-inflammatory compound that limits the effects of pro-inflammatory cytokines. As a result, garlic can help fight inflammation and may even help prevent cartilage damage from arthritis.
Broccoli is known as a superfood and for good reason; it's packed with calcium, known for its bone-building and strengthening attributes, is rich in vitamins C and K and contains sulforaphane which can help prevent or slow the progression of osteoarthritis.
Lemons are rich in Vitamin-C which can help the production of collagen which in turn can help repair damage to bones, amongst other things. They are also filled with inflammation-fighting antioxidants, perfect for those living with joint pain.
Olive oil has many properties that can help you look after your joints. Studies have shown it contains a compound called oleocanthal, which prevents the production of pro-inflammatory enzymes – the same way ibuprofen works. It is widely accepted that - as part of a Mediterranean diet - it can benefit those living with joint pain. Be sure not to heat the oil too high as this can destroy some of the beneficial properties in the oil; a moderate heat is more than enough to achieve what you need here.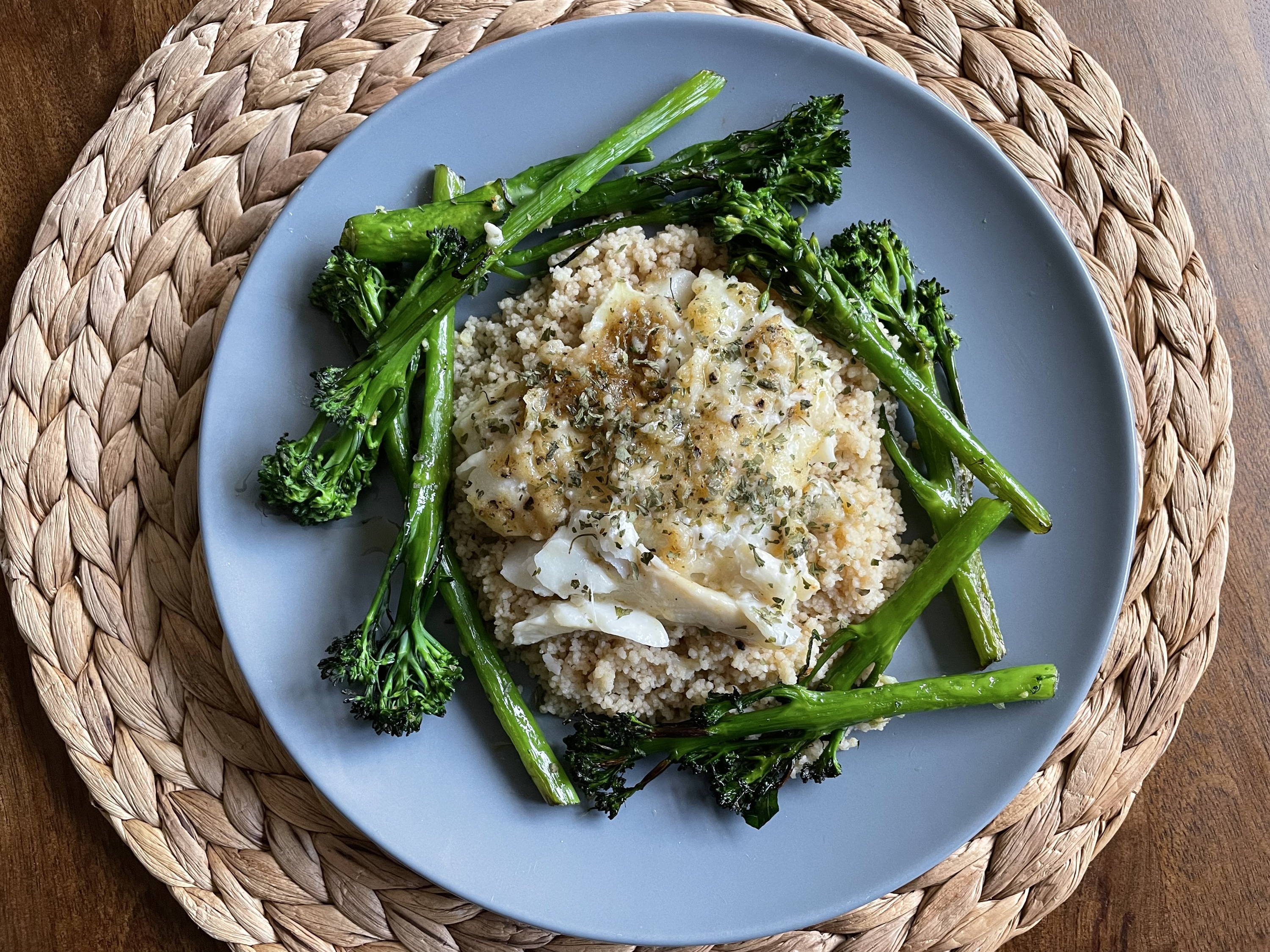 Serves: 2                                                                                                                                                                 Prep + Cook Time: 25 mins
---
Ingredients:
2 cod fillets

5 tbsp lemon juice

5 tbsp extra virgin olive oil

2 tbsp butter

⅓ cup of plain flour

½ tbsp of paprika

½ tbsp of ground cumin

½ tbsp of salt

½ tbsp coriander

5 finely chopped cloves of garlic

2 cups of couscous

2 cups of boiling water

200g long stem broccoli
---
Instructions:
Preheat the oven to 200 degrees Celsius

Melt the butter and mix it with the lemon juice, garlic and the extra virgin olive oil

Mix the flour, paprika, cumin, salt and coriander together.

Coat both cod fillets in the lemon sauce and then coat it in the flour mixture. Save any sauce left for later.

Pour the boiling water over the couscous and cover.

Place the broccoli in an ovenproof dish - season with salt and pepper if desired - and place in the oven for 15 minutes.

Seer the fish on all sides for 2-3 minutes to lock in the flavour.

Place the cod fillets in an ovenproof dish - pour over the remaining lemon sauce and place in the oven for 10-15 minutes ensuring the cod is cooked through.

Remove the cover from the couscous, fluff and create a bed of it on your plate.

Flake the cod and place it on top of the couscous and serve with broccoli on the side.
---

News from flexiseq
The personal information you are providing will help us to deliver, develop and promote Flexiseq products. Submitting your details indicates that you have read and agreed to our privacy and cookie policy. You can read our policies here.