If you're living with joint pain or osteoarthritis, it's widely acknowledged that symptoms can be alleviated by tinkering with your diet so that it includes foods with anti-inflammatory properties.

Getting good, healthy food into you is much easier than you think. And the easiest way to do it is to make something that really gets the taste buds going. This leek, cheese and bacon tart is so simple to make, tastes delicious, works great as leftovers and contains ingredients that are good for joint health. If you're vegan or vegetarian it also works well without the bacon.

Why not try it at home and let us know how you get on.
Anti-Inflammatory Ingredients

Like fellow superfood broccoli, leeks contain vitamins C and K and contain sulforaphane which can help prevent or slow the progression of osteoarthritis. Studies by King's College London and the University of East Anglia have shown that a diet high in allium vegetables, which includes leeks, can help delay the onset and even slow the progression of osteoarthritis.
Onions are rich in antioxidants called flavanoids which have been shown to mop-up free-radicals in the body that can cause harm. They are also low in calories, have anti-inflammatory properties and can help prevent heart disease and fight the progression of cancer. Who knew the humble onion was so powerful?
Olive oil has many properties that can help you look after your joints. Studies have shown it contains a compound called oleocanthal, which prevents the production of pro-inflammatory enzymes – the same way ibuprofen works. It is widely accepted that, as part of a Mediterranean diet, it can benefit those living with joint pain.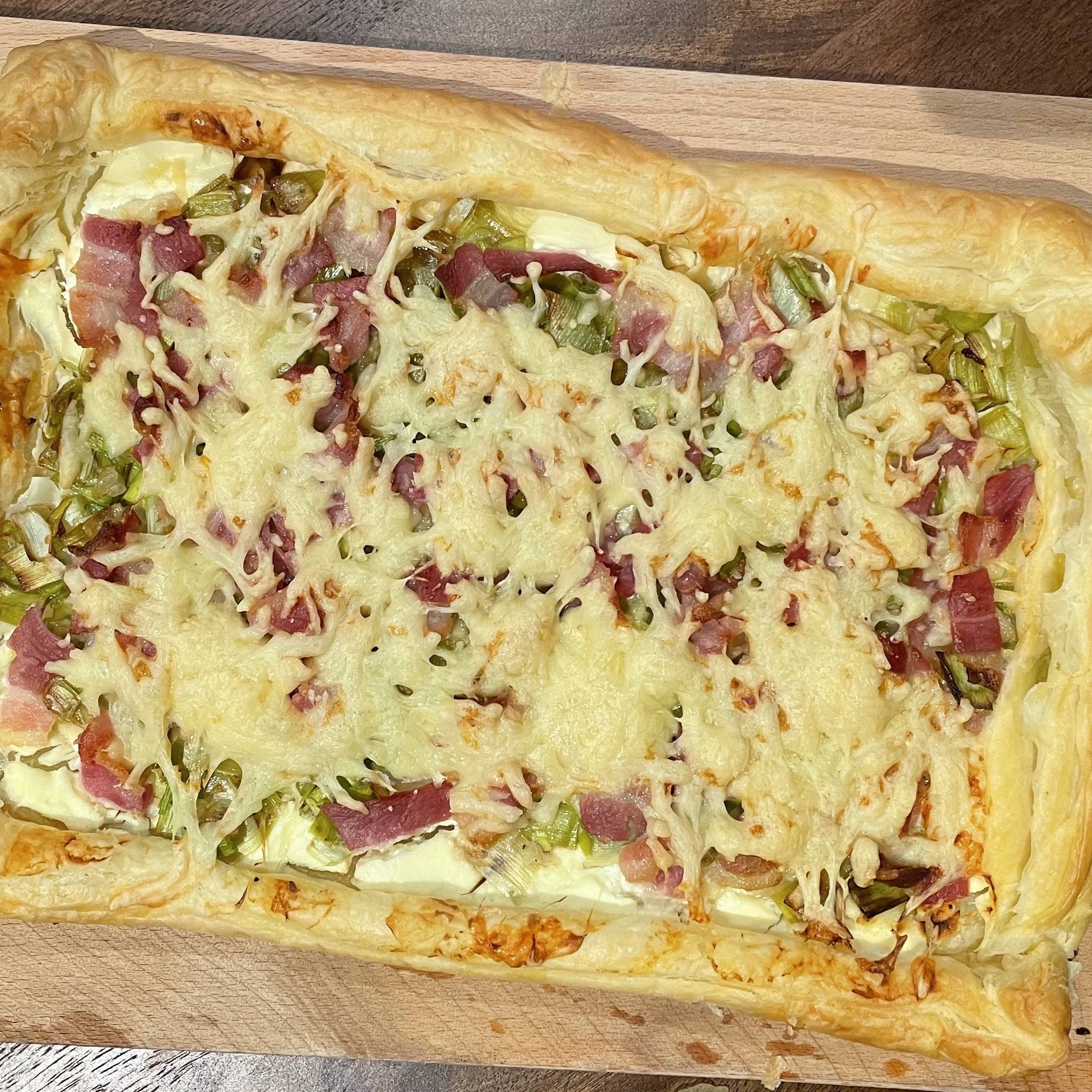 Serves: 4
Prep + Cooking Time: 35 mins
---
Ingredients
3 leeks

1 medium sized onion

2 rashers of smoked bacon

375g of ready-rolled puffed pastry

1 egg

150g pack soft cheese with garlic and herbs

100g of grated Emmental cheese

1 tbs of extra virgin olive oil
---
Instructions:
Thinly slice the leeks, onions and bacon and fry in a pan with the olive oil for roughly 10 minutes.

 

Roll out the puffed pastry onto a shallow baking tray.

 

Take the soft cheese with garlic and herbs and spread a thin layer over the pastry, avoiding the outermost edges.

 

Crack the egg and beat it into a wash. Brush the egg-wash around the edges of the pastry.

 

Place the leeks, onions and bacon evenly on the puffed pastry, avoiding the edges.

 

Sprinkle the grated emmental over the pastry.

 

Place in the oven at 200C for roughly 20-30 minutes or until the Emmental is nicely browning and the pastry is golden and risen at the edges.

 

Serve with a simple salad.

News from flexiseq
The personal information you are providing will help us to deliver, develop and promote Flexiseq products. Submitting your details indicates that you have read and agreed to our privacy and cookie policy. You can read our policies here.