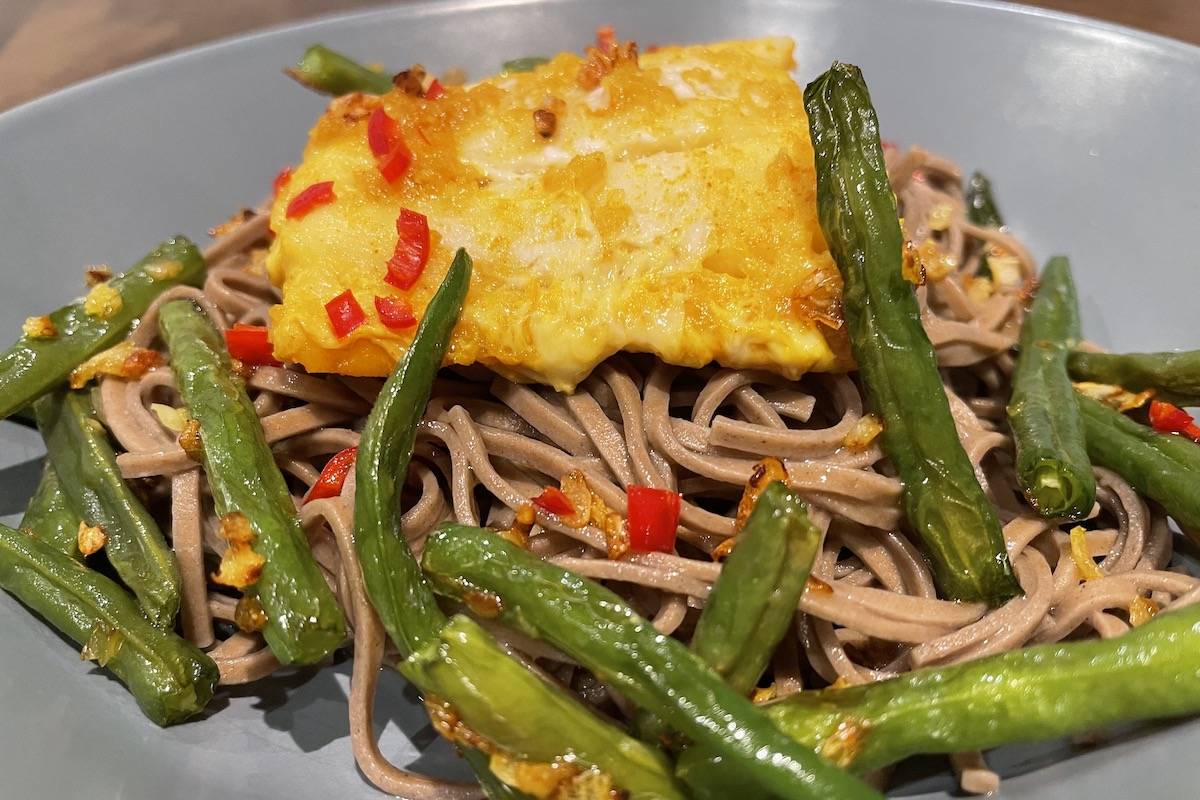 If you're living with joint pain or osteoarthritis, it's widely acknowledged that symptoms can be alleviated by tinkering with your diet so that mealtimes include ingredients packed with anti-inflammatory properties.
Finding recipes that get the taste buds tingling is the easiest way to switch to a healthy diet. Our latest arthritis-friendly recipe is this ginger and turmeric cod with beans which is packed with flavour and jam-packed with good for arthritis ingredients. On a cold winter night this is seriously delicious comfort food.

Give it a try and if you do let us know how you liked it on Facebook.

Anti-Inflammatory Ingredients

Turmeric has been shown to have anti-inflammatory properties and clinical trials based on taking it as a supplement showed those with joint pain felt less discomfort climbing stairs compared to those who were taking ibuprofen.
There is still a lot of research being done into the benefits of ginger. However, what is known is that ginger contains two compounds - gingerols and shogaols - that possess anti-inflammatory and antioxidant properties.
Besides being an excellent low-calorie source of protein, cod contains a variety of very important nutrients and has also been shown to be useful in a number of different health conditions. It's a good source of blood-thinning Omega-3 fatty acids, as well as an excellent source of vitamins B12 and B6.
Green beans are a great source of protein, which is essential for maintaining healthy bones and joints - both of which become especially important if you have osteoarthritis.
Garlic contains diallyl disulfide, an anti-inflammatory compound that limits the effects of pro-inflammatory cytokines. As a result, garlic can help fight inflammation and may even help prevent cartilage damage from arthritis.
Serves: 2                                                                                                                                                                Prep + Cook Time: 20 Mins
---
Ingredients:
2 cod fillets

Half tsp of ground turmeric

2 cloves of crushed garlic

200g chopped green beans

100g of soba noodles

1 chopped onion

1.5 tbsp vegetable oil

2 tbsp fish sauce

4 tbsp clear honey

1 tbsp lime juice

1 finely chopped red chilli



---
Instructions:
Mix together 2 tbsp of honey, the ginger, 1 tbsp fish sauce and half tsp turmeric in a bowl and then place the cod in the bowl ensuring both fillets are coated. Set aside for 15 minutes.

Boil the noodles as instructed on the packet for roughly 5 minutes then drain and set to one side.

In a bowl, mix the lime juice, the remaining 1 tbsp of fish sauce, 2 tbsp of honey and the chopped chilli.

In a frying pan, heat the vegetable oil and fry the onion, garlic and beans for 7-8 minutes or until the beans are tender.

Push the onion, garlic and beans to one side and place the cod fillets into the pan, frying on a high heat for 2 minutes on each side.

Divide the noodles evenly between two bowls, placing the vegetables and cod on top of the bed of noodles.

Drizzle the sauce over the cod and serve.

News from flexiseq
The personal information you are providing will help us to deliver, develop and promote Flexiseq products. Submitting your details indicates that you have read and agreed to our privacy and cookie policy. You can read our policies here.