Garlic Chilli Pak Choi and Pork Noodles

If you're living with joint pain or osteoarthritis, it's widely acknowledged that symptoms can be alleviated by tinkering with your diet so that mealtimes include ingredients packed with anti-inflammatory properties.
Finding recipes that get the taste buds tingling is the easiest way to switch to a healthy diet. Our latest arthritis-friendly recipe is this bursting with flavour and packed with good-for-arthritis ingredients. Garlic, chilli and pak choi noodles is pure comfort food - so the fact that it's good for you too can only be a bonus.
Give it a try and let us know how you liked it on Facebook.
PLEASE NOTE: If you have allergies to any of the ingredients in this or any of our other food related blog posts then it might not be suitable or safe for you. If in doubt please consult your GP or healthcare professional.

Anti-Inflammatory Ingredients

Garlic contains diallyl disulfide, an anti-inflammatory compound that limits the effects of pro-inflammatory cytokines. As a result, garlic can help fight inflammation and may even help prevent cartilage damage from arthritis.
There is still a lot of research being done into the benefits of ginger. However, what is known is that ginger contains compounds from two interesting groups - gingerols and shogaols - that possess anti-inflammatory and antioxidant properties.
​​Sesame seeds contain a compound called sesamin that has anti-inflammatory properties and antioxidants that can help protect cartilage. They might be small but they are mighty.
Chillies contain a natural compound called capsaicin which has been shown to have anti-inflammatory properties. Studies have shown that capsaicin reduces Substance P which carries pain signals from your nerves as well as activating inflammatory substances in joints. So reducing it while eating something delicious and healthy can only be a good thing.
Pak choi (also known as bok choy and pok choi, which is a Chinese cabbage) is packed with antioxidants like vitamins A, C and K as well as being rich in calcium to help preserve bones. Like the broccoli in our last recipe, pak choi is rich in sulforaphane - a compound that can slow cartilage damage.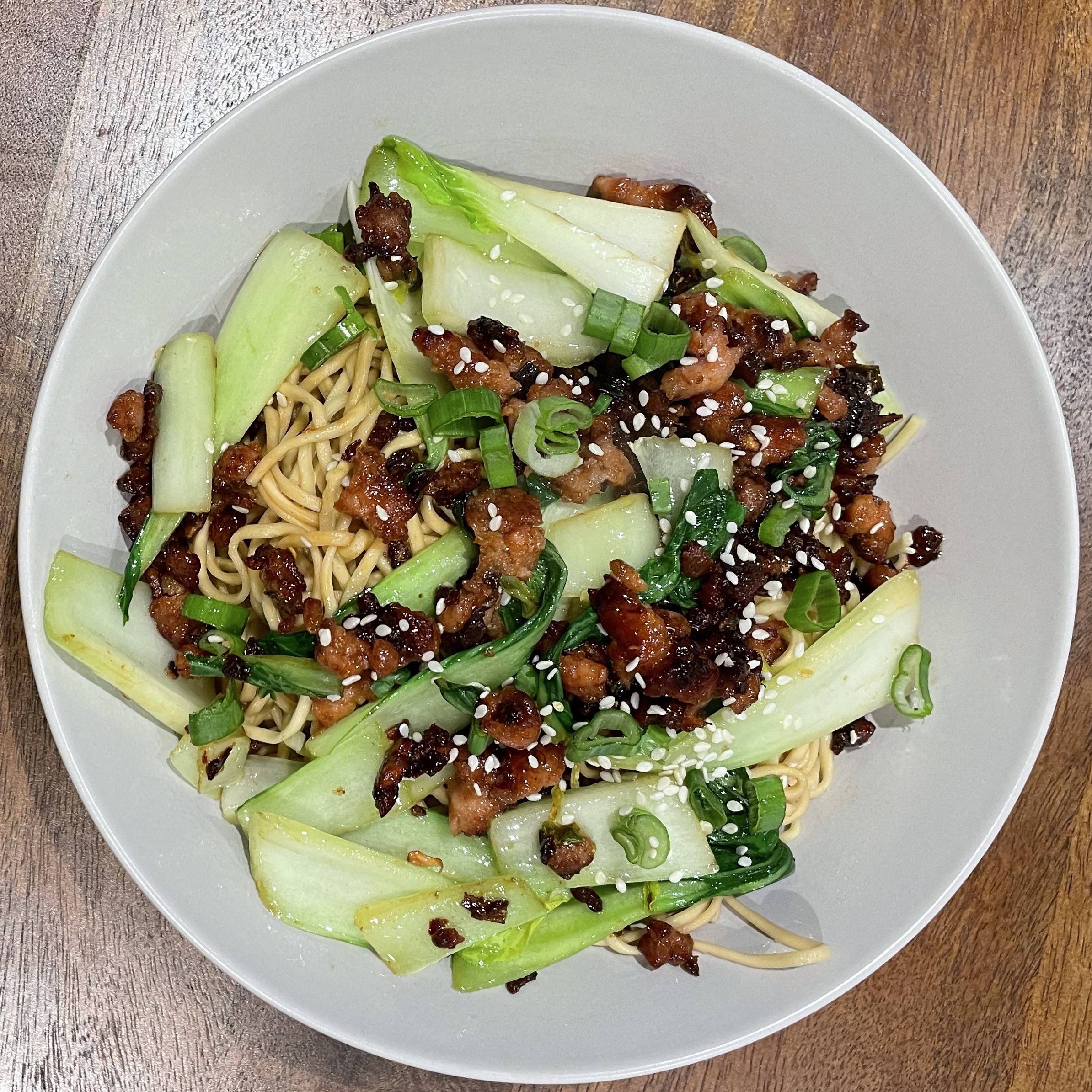 Prep + Cooking Time: 20 mins                                                                                                                                                       Serves: 2
---
Ingredients:
5-10 (depending on taste preference) cloves of crushed garlic

1 tbsp grated fresh ginger

2 chopped pak choi

2 finely chopped spring onions

200g egg noodles (or any noodle of choice)

150g minced pork

3 tbsp rapeseed oil

1 tsp toasted sesame seeds

Sauce:
1 pinch chilli flakes

2 tbsp soy sauce

2 tbsp oyster sauce
---
Instructions:
Mix the sauce together in a small bowl or jug.

Parboil the pak choi for 1 minute, drain and set aside.

Set the noodles to boil as per the instructions on the pack.

Heat the oil in a frying pan and add the garlic, spring onions and ginger. Cook for a couple of minutes and then set to one side

Add the pork into the hot frying pan and break up. Fry for a few minutes until it is cooked through, then lower the heat. Remove once it is as crispy as you like, ensuring it is cooked through.

Add in the sauce and cook together for 2 minutes, stirring regularly.

Drain the noodles and stir fry them into the rest of the ingredients.

Garnish with the ginger, spring onions, pak choi and sesame seeds

Distribute evenly between two dishes and serve.

News from flexiseq
The personal information you are providing will help us to deliver, develop and promote Flexiseq products. Submitting your details indicates that you have read and agreed to our privacy and cookie policy. You can read our policies here.