Tips For Healthy Joints - From Function Jigsaw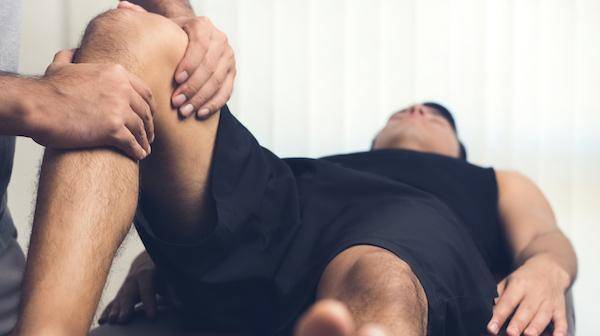 We sat down with Tom Heeley, sports therapist and physio hero for Function Jigsaw. Ahead of this weekend's Bodypower event, find out all the essential tips for keeping our joints healthy and happy. Tom will be at stand G32 with Flexiseq giving first-hand demonstrations, tips and advice.
What are the best ways to keep your joints healthy when working out?
It is always important to start with a good warm up, this helps to increase blood flow, warm the tissues and increase the elasticity of tendons, ligaments and joint capsules surrounding the joints you are about to move.
Are there any daily exercises people can perform to help their joints, even if it's just for 5 minutes?
A series of simple yoga or pilates stretches is a good way to move the fascia, break adhesions and increase flexibility. Think about a cat when it wakes up, it stretches and elongates every time to improve circulation and maintain good joint health.
What kind of impact can food have on your joints and do you have any recommendations for what to eat when going through physio or working out?
Eating an anti-inflammatory diet is essential for joint health, so steering away from processed food is important. A low carb meal post training is shown to increase insulin sensitivity which helps the body use sugar from the bloodstream and store it in muscles to use for fuel. Good fats and protein are a good starting point for pre and post training, so avocado and chicken, for example, will provide your body with what it needs to heal.
Do you have any tips for stretching your joints before and after exercise?
Prior to training, it's a great idea to use an Active Roller to help warm up and provide some self-myofascial release to tissues, dynamic stretching is always a good idea to prior to training and more static stretching is thought to be more productive post training.
How important are joints for the ability to workout effectively?
A joint that does not move correctly can affect the whole kinetic chain, for example, a knee with poor range of movement and that causes pain will cause issues in the hip, back and even shoulder.
What advice do you have for joint recovery after an injury?
Flexiseq is a great product to use post injury, I have had great success using this to increase the long-term joint health post serious injuries.
You can find out more about Function Jigsaw on Twitter, Facebook and Instagram
News from flexiseq
The personal information you are providing will help us to deliver, develop and promote Flexiseq products. Submitting your details indicates that you have read and agreed to our privacy and cookie policy. You can read our policies here.