According to the latest research, almost 10 million people in the UK now live with osteoarthritis. A quite staggering figure.
Given its prevalence, it's perhaps unsurprising that it's regularly the focus of news articles, blog posts and videos, many of which touch on the latest scientific research.
Each month, the Flexiseq team scours the web for the osteoarthritis-related stories that have caught our eye.
Here's our latest roundup…
__
Down in Australia, a team at La Trobe University in Melbourne is working on non-pharmaceutical ways to keep one of our most crucial moving parts - the hip joint - working as long as possible.
Their aim is to ascertain whether doing certain exercises to strengthen specific gluteal muscles - the ones around your bum - can stabilise the hip and ward off the usual joint wear and tear that leads to pain and potential replacement operations. The study is expected to begin soon.
News from Harrogate in Yorkshire where an intervention programme to help arthritis sufferers has been hailed a success by local woman Jill Quinn. You can hear her talking to Stray FM here.  
'ESCAPE-Pain' is a nationally recognised six-week, 12 session self-managed rehab programme for people with chronic hip and knee joint pain. The programme is already being delivered in 190+ leisure and community centres, and physiotherapy departments, across the UK. It's well worth visiting the ESCAPE-pain website for more info.
We've written before about the need to pay attention to your diet if you're living with osteoarthritis; it's well-known that certain foods can act as anti-inflammatories and vice versa.
Now a team at the University of East Anglia are trying to find out if eating broccoli, which contains a compound called sulforaphane, could relieve the pain of osteoarthritis. They are currently looking for volunteers to take part in a 12-week trial. To be eligible you should have osteoarthritis in your knee, be over 50 and, of course, should like broccoli soup! More info here.
Practice Business reports on the prevalence of arthritis in young people focusing on a story from the Metro about one woman's quest to help her young daughter after a diagnosis of juvenile idiopathic arthritis (JIA).
Mother Emily Hearle is now a passionate patient advocate and wants all those living with arthritis, old and young, to be fully aware of the support that is available. The article includes useful resources about JIA and info on the Children's Chronic Arthritis Association. It is said that 15,000 children and young people in the UK have developed some form of the arthritis.
44-year-old Paddy McGuinness - host of 'Take Me Out' and now 'Top Gear' - took to Instagram to reveal he has had an ultrasound-guided steroid injection to relieve the pain of arthritis in his right shoulder.
The charity Arthritis Research UK told the BBC: "We're grateful to Paddy McGuinness for speaking out and showing other young people with arthritis that they are not alone."
Finally, Last month we reported that UNITY Biotechnology had started a clinical trial testing a new drug, UBX0101, that it was hoped would reverse or slow the effects of osteoarthritis. The topline results are in and it's promising - a single dose appears to have had a clinically meaningful impact on pain. We'll keep you posted if we hear of further developments.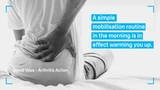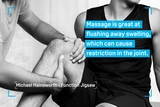 News from flexiseq
The personal information you are providing will help us to deliver, develop and promote Flexiseq products. Submitting your details indicates that you have read and agreed to our privacy and cookie policy. You can read our policies here.