Len Goodman's 5 Secrets To Happiness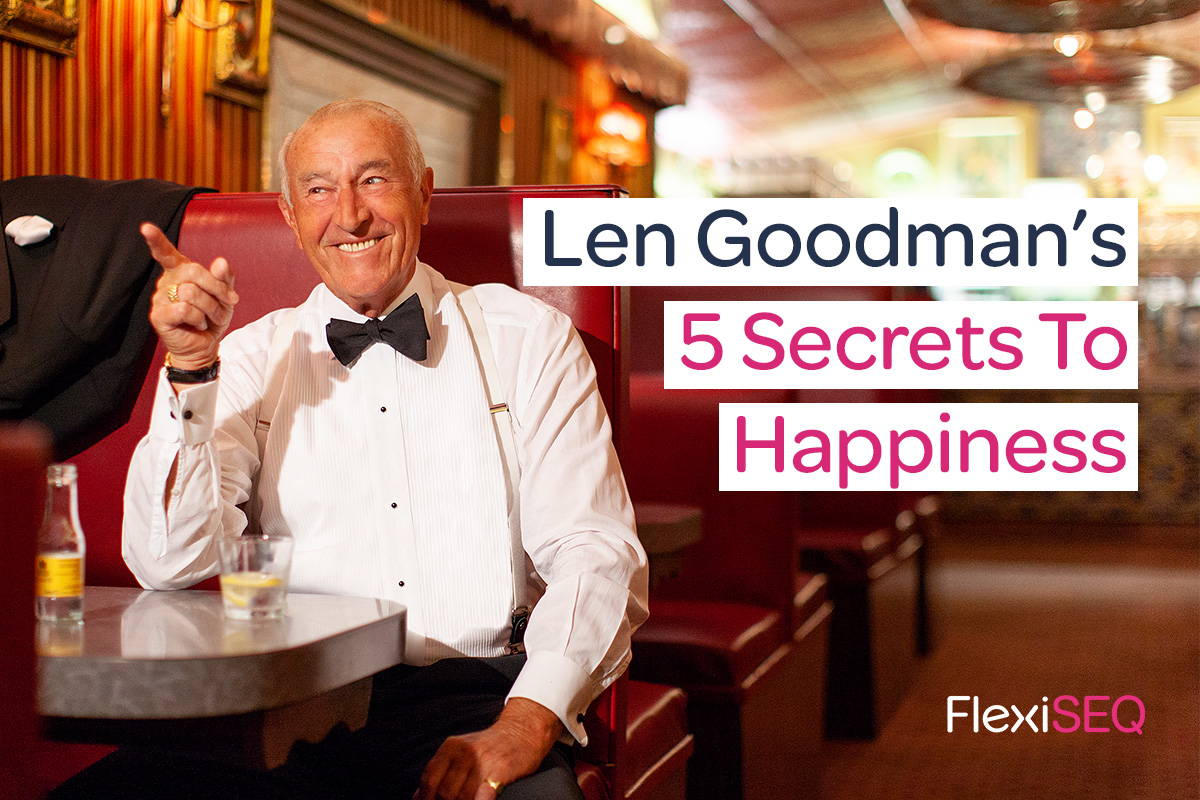 Len Goodman is best known for his time as one of the judges on BBC's Strictly Come Dancing. Len always has a lovely turn of phrase to put a smile on anyone's face and his enthusiasm for life and staying active is nothing short of infectious.
We caught up with Len to find out what keeps him upbeat and his tips to a happy, fulfilling life.

Be Grateful For What You Have

If there's one thing that the past couple of years and lockdown in particular taught me, it was to appreciate the little things in life that make you happy. For a long time we couldn't see our loved ones, and my son and his kids live very close by to me so it was tough not being able to see them. So now, when I do get to see them I really cherish it.
The other day we had my son's family and my grandchildren over. It was a beautiful sunny day and we were all in the garden. And it was just perfect.

I feel very blessed because I've led the most wonderful life. I might come across as grumpy old Len sometimes but believe me when I say, on the inside, I'm almost always smiling. I look at my life and I think how fortunate I've been.
Being able to look at what you have and be grateful for all those little things, be they friends, loved ones or anything that just puts a smile on your face - try to embrace those things and remember them when things get a bit tough.
Be Proud Of What You Have Achieved
I'll let you in on a little secret; I was never the best in school. I was the most average student you could imagine, slap-bang in the middle of all the other children in my classes. The best of the worst and the worst of the best, that was me. I was average at football, I'm average at golf, and you know what, I was a pretty average dancer.

But what I realised I had was the gift of the gab. People liked to hear me talk, so when it came to teaching dance I made it fun, and when you're having fun you want to learn.

A lot of what I've achieved in life has come much later than a lot of people. I didn't have my son until I was in my 40s. I didn't get on Strictly until I was in my 60s, so much has come late in life. I'm still not sure why they picked me for Strictly Come Dancing but I'm proud they did and it opened up so many doors including going over to America to do the US version of the show.  
It doesn't matter what you've done in life, or how you did it - what matters is being able to look back and say, with pride, "I did that, and I did it well."
Something I've always taken great joy from in life is making other people happy. Happiness is always something you realise fully in retrospect. So if you look back on an evening out with someone or a nice meal with family and you think, we all laughed a lot, we all had a good time, then that forms a happy memory.

Happiness often leads to happiness. If you make someone laugh or put a smile on their face then you feel happy as well.

In the past I've done some work with Age UK. I went to one of their events where people over a certain age could come along, get their hair done, have some tea and cakes and have a bit of a dance. It was lovely, seeing the smiles on their faces as I showed them a few steps and we all had a bit of a laugh together. I hope they enjoyed it as much as I did. I take huge pleasure in doing charity work like that. Often just a little thing like someone coming up to me in the supermarket and asking for a photo or an autograph, I always make the effort to do it because I know it makes them happy, and seeing that, well, it makes me happy as well.
I came across a quote that was attributed to Mark Twain which said, "The two most important days in your life: the day you were born and the day you discover why." So I wrote that in my son's birthday card recently and said, "I found out why the day you were born." Because having children, or anything you're passionate about is a reason for being here. It gives you purpose and that purpose can give you not only drive but happiness.
Seeing my son who is now a parent with my grandchildren gives me so much joy. So now my reason for being is to see them grow up, to see the people they become and hopefully they grow up to remember silly old grandad. That brings me happiness.
Positive Mental Attitude (PMA)
Positive mental attitude might sound like a bit of a cliche but I really believe it to be true. In my 20s I worked for a company called CICA (Combined Insurance Company of America) selling accident insurance for shops. As an American company they had lots of ideas that really changed my whole attitude.

We would go to their workshops and they would gee you up with these great little phrases to get you motivated. Things like "Do It Now" and "Get Up" have really stuck with me. So when I'm in bed in the morning and I think "oh I don't want to do this or that today" that voice from my old job speaks up and says "Do it now!" and you know what? I do it. Keeping a positive outlook on life can really help you to be happy.
–
What makes you happy? How do you find ways to always #SayYesToLife? Let us know on Facebook.

News from flexiseq
The personal information you are providing will help us to deliver, develop and promote Flexiseq products. Submitting your details indicates that you have read and agreed to our privacy and cookie policy. You can read our policies here.