Flexisquad - What's It All About
In 2013 Arthritis Research UK calculated that one third of the UK population over the age of 45 had sought treatment for osteoarthritis. That's roughly 8.75 million people - more than the population of New York.
As anyone living with osteoarthritis will tell you it is a painful, debilitating and, more often than not, invisible condition. It can affect both your physical and mental wellbeing. But it's important to remember that you are not alone. There are millions of people like you and we want to cherish this community and bring people together.

The Flexisquad is our support network of real stories, expert advice, tips and shared experiences. In addition, there will be live events, initiatives and exclusive offers, each one aspiring to help you live better with arthritis and joint wear and tear.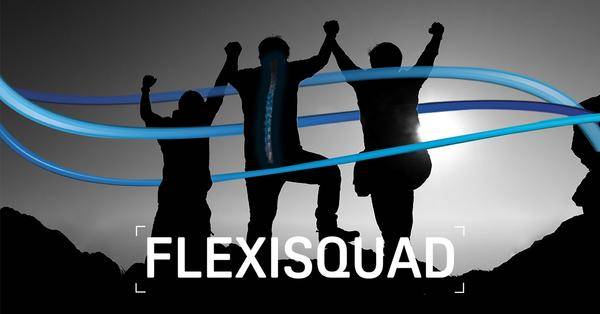 On the 30th June 2018 NHS England announced it was considering stopping certain procedures it deemed 'ineffective', including knee arthroscopies for osteoarthritis. But rather than highlight the 'ineffective', we want to ensure our community is informed on all of the latest news, views, and insights shaping the future of osteoarthritis.
We certainly don't have all of the answers, but we believe we can help manage arthritis better together. No one knows the condition better than those living with it. From the daily struggles to the determination not to let it define who they are and what they are capable of doing, we want to empower, educate and encourage those living with arthritis to lead a better and healthier life.
From interviews and commentary from the innovators and influencers within the fields of arthritis to everyday advice to help you live better with the condition, we are asking all those suffering from osteoarthritis or everyday wear and tear, to join our #flexisquad; our collective of people united by a desire to get moving.
Free to join, our regular newsletters will include:  
Weekly interviews, features and news to help you start moving.
Tips, advice and key life Hacks for living with Osteoarthritis.
Events, talks, workouts and #Flexisquad meets.
Exclusive offers on all Flexiseq.
Exclusive offers from our carefully selected partners.
Uplifting stories from fellow #Flexisquad members on how they owned their battle against joint wear and tear.
LIVE Q&As on social media with our team of experts and partners to give you the best support you need.
For more information on the Flexisquad, including testimonials from some of our famous alumni, and to sign-up click HERE.
News from flexiseq
The personal information you are providing will help us to deliver, develop and promote Flexiseq products. Submitting your details indicates that you have read and agreed to our privacy and cookie policy. You can read our policies here.